Listen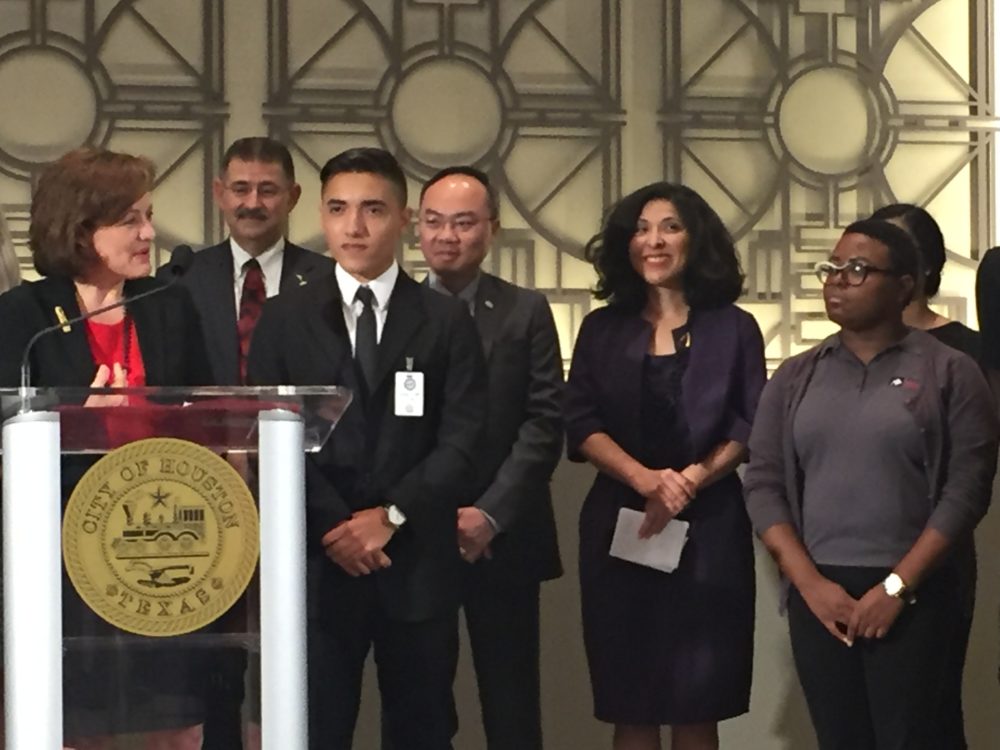 Project Grad's president, Ann Stiles, accepted a $1 million donation from AT&T to expand to new areas. She's with local leaders and college student David Ruiz.
The Texas graduation rate stands at 88 percent, according to federal data.
But that still means that thousands of students are dropping out.
To fix that, a nonprofit in Houston received a million dollar boost from AT&T.
Project Grad will start working in three new areas of Greater Houston: the Aldine Independent School District, a charter school in Southwest Houston and the Raul Yzaguirre School for Success in the Eastside.
Ann Stiles, president of Project Grad, said that they'll expand what those campuses are already doing for at-risk students.
"I think it's going to make a tremendous difference in knowing that they have dedicated and resources in terms of human beings who are there specifically focused on them, and helping them navigate whatever hurdles they need to navigate," Stiles said.
She said that they want students to finish high school and continue their education afterwards, whether that's a four-year university, community college or workforce training.
That's what David Ruiz is doing. He got a sense of college through Project Grad. Now he has a 3.86 GPA at Houston Community College.
"My most important message would be to always be open minded towards other opportunities," Ruiz advised other students.

Ruiz said that he wants to transfer to a four-year university and become a chemical engineer.
Stiles said this expansion will build on Project Grad's other initiatives focused on the transition from high school to college, including its College Café, a resource center inside a public library in the Northside.
"It's not enough today — it never was, but it's certainly not enough today — for some students succeed or a few students achieve incredible goals or aspirations. We can only be satisfied when all of our children have access to these resources and are able to achieve," she said.