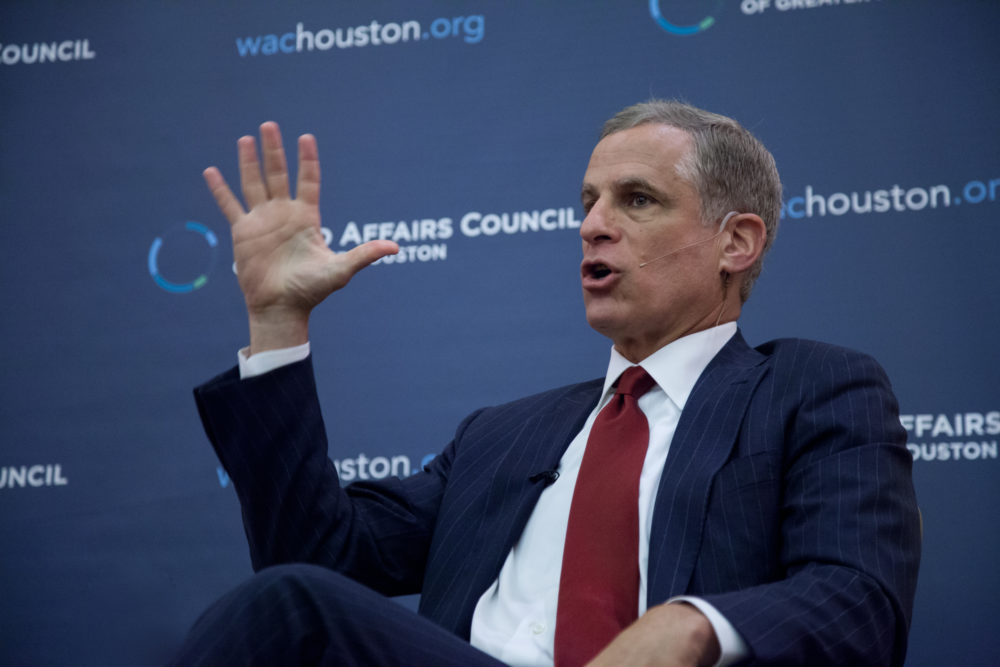 Economic growth has been slowing down for three straight quarters. Robert Kaplan, the president and CEO of the Dallas Federal Reserve Bank came to Houston this week to speak to the World Affairs Council with critical reasons for why the economy has slowed, while offering controversial solutions.
"The Federal Reserve has two primary goals. Full employment, and keeping inflation below two percent," said Kaplan, who heads the 11th Federal Reserve District, which includes all of Texas. With first quarter 2016 GDP growth at just 1.1%, Kaplan believes there are a number of reasons for a slow economy. Among them, what he calls disruptive innovation.
"The telephone was a disruptive innovation. But I'm talking about in every single industry there is a disruptive threat, that is going to change the entire model," says Kaplan.
Kaplan sites companies like Amazon, and Uber and Airbnb. They change retail markets, but hurt the buying power of other businesses keeping them from investing in growth.
As for how to fix the economy, the local Fed president offers a couple of solutions.
Kaplan believes we need a political climate of compromise instead of polarization to energize the economy.
"If you believe the population is aging, and it is, we can do some things about that. We could have immigration reform in the United States so that people come here legally and we can continue to grow the workforce," Kaplan stated.
He is also calling for major investment in education outside the traditional college setting.
"All of us in this room are more likely to get fired, thrown out of work, having to re-position ourselves to get a new job in a new industry. We need vocational training," he added.
Locally, the former Senior Associate Dean at Harvard Business School thinks the overall economic outlook is promising.
He concedes that there is good news and bad news for the energy sector: "The good news: we believe prices will continue to firm. And in the years ahead, '17, '18, '19 we think they will even further continue to firm."
"The bad news is there are still many fields in the United States and in the Permian (Basin) and other fields, which are still not economic at $45 or $50 (for a barrel of oil), it would take higher prices. And there are also a number of companies that are highly leveraged and are not going to be able to make it through, without bankruptcy or restructuring," Kaplan says.
So while the energy sector may continue to struggle, he is confident in the overall economy in Texas: "We are the largest exporter in the world that's been true for a long time. But we also are a magnet. Part of that growth has been we are a magnet for people and firms that are coming to Houston, Dallas, San Antonio, Austin, and that trend is continuing."