Listen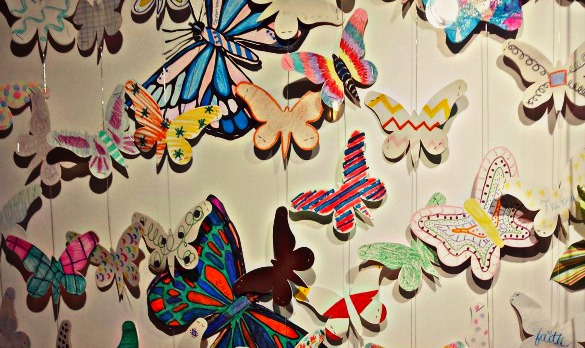 The Butterfly Project began 20 years ago with the purpose of collecting 1.5 million handmade butterflies. The number represents the amount of children killed during the Holocaust.
It all started with a poem.
The last, the very last,
So richly, brightly, dazzlingly yellow.
Perhaps if the sun's tears would sing
against a white stone...
Such, such a yellow
Is carried lightly 'way up high.
It went away I'm sure because it wished to
kiss the world goodbye.
For seven weeks I've lived in here,
Penned up inside this ghetto
But I have found my people here.
The dandelions call to me
And the white chestnut candles in the court.
Only I never saw another butterfly.
That butterfly was the last one. Butterflies don't live in here,
In the ghetto.
A young Czech named Pavel Friedman penned that on a scrap of paper while he was a prisoner at the Theresienstadt concentration camp in 1942.
The Butterfly inspired three Houston-area teachers to begin an ambitious project twenty years ago. They set out to collect 1.5 million handmade butterflies from people around the world for an exhibit at the Holocaust Museum Houston. The number represents the amount of children who lost their lives during the Holocaust.
They reached their goal earlier this year. The Holocaust Museum Houston's Kelly Zuniga says the project was a unique way to teach students the history and lessons from the Holocaust.
"This one went viral and it went worldwide," Zuniga says. "So from the standpoint of students and even adults participating in this program, it went as far as every continent except Antarctica."
40 of the butterflies are on display in a small art gallery inside Memorial Hermann-Texas Medical Center. More are at various venues around Houston.