Listen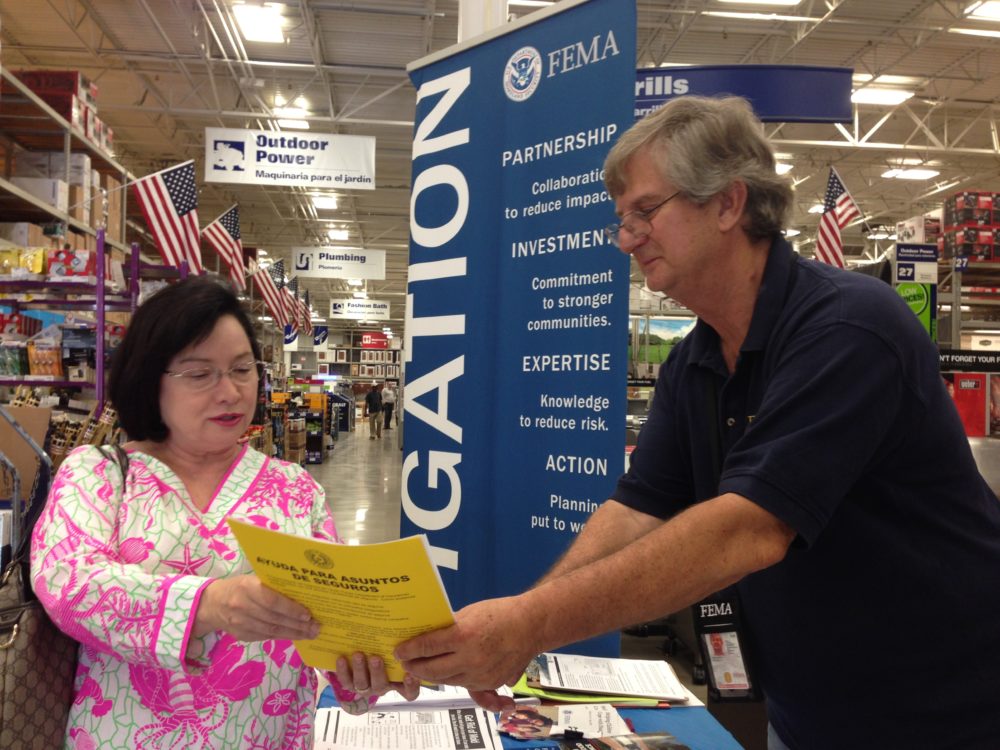 FEMA disaster mitigation specialist Kenneth Milausnic (right) shows Sugarland resident Margie Phillips (left) a brochure about how to reduce the effects of flooding in homes.
The Federal Emergency Management Agency, or FEMA, is extending to July 29th the deadline to register for disaster assistance due to the storms that hit Texas in April.
In addition to the extended deadline, FEMA staff recently visited Lowe's stores located in Harris and Fort Bend counties to provide tips to homeowners about how to recover from flooding in the future.
They are also setting up stations at the home improvement stores to help those who suffered damages during the floods.
These experts explain techniques to reduce the effects of flooding, such as clean-up of mold and mildew, and handing out brochures on flood insurance.
That is important for Margie Phillips, a Sugarland resident.
"I myself am adding (flood insurance) to my home because even though my lot is very high, because I'm backed to a golf course, there's a gulley and that floods and that can flood my home," says Phillips.
One more thing homeowners should remember is having "a disaster kit prepared inside the home," said Kenneth Milausnic, a FEMA disaster mitigation expert.
A disaster kit must include important documents and a supply of food and water for at least three days.
Editor's Note: This story has been changed to reflect the correct deadline for victims of the April storms to apply for FEMA aid: July 29th. An earlier version had an incorrect date. We regret the error.