Listen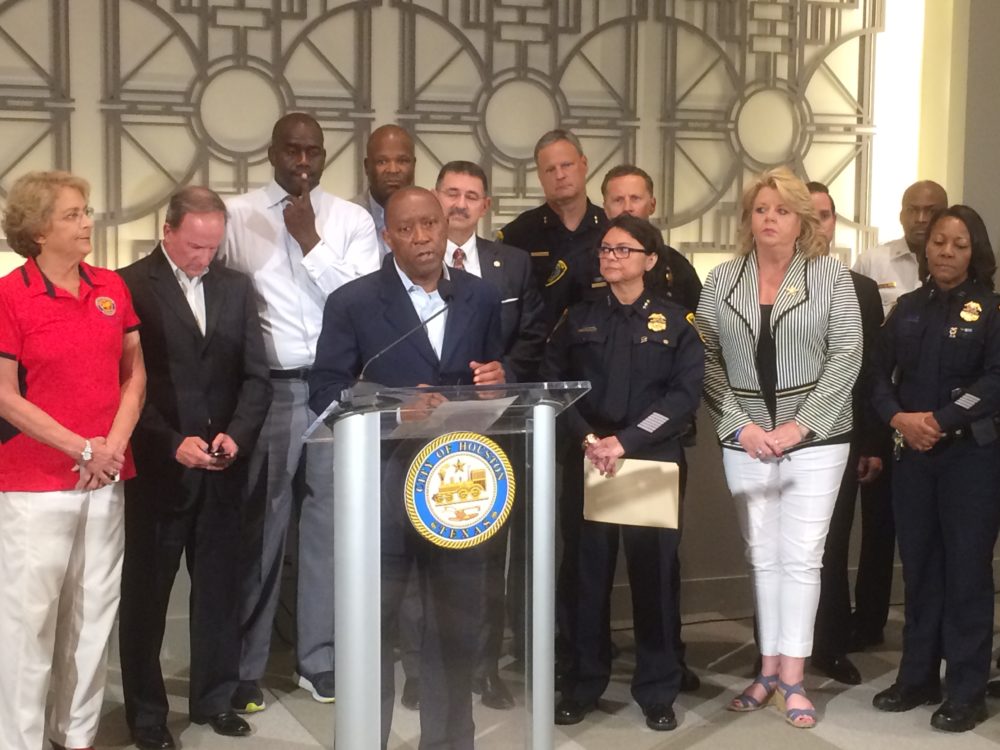 Houston Mayor Sylvester Turner, HPD Interim Chief Martha Montalvo and city council members react to Thursday's shooting of police officers in Dallas.
Houston Mayor Sylvester Turner said he called Dallas Mayor Mike Rawlings Friday morning to express his support and condolences to the families of the officers who were killed in the ambush.
At least one gunman killed five officers and wounded seven others as well as two civilians after a Black Lives Matter protest in Dallas Thursday night.
Police killed the suspect after a lengthy standoff.
At a Friday news conference to respond to the shootings, Turner also said he wants to sit down with different groups to come up with a strategy to improve trust between police and the community to avoid a similar event in Houston, "so that people have confidence that justice will prevail and that people will know that law enforcement is here for them and not to work against them and is respectful of them."
The mayor cautioned not to hold a whole group accountable for the acts of an individual — whether that be a bad cop or a member of the community.
Tamara Gillard, who is working on her MBA at Texas Southern University, fears the shootings will worsen the situation between police and the community.
"It's terrible," she said. "I don't think anyone's life should be taken in just cold blood for no reason, because cops save lives every day for us, so that was just out of control for me, especially with everything that's going on, it just makes things worse."
Gillard said she is upset about the recent high-profile killings of young black men by police. But she said anger and violence doesn't help to achieve change.
She said the black community needs to unite and make sure lawmakers and other decision-makers hear their voices.
Interim police Chief Martha Montalvo said the Houston Police Department meets with community groups every few months to build relationships and trust.
She also said the HPD administration has sent out alerts to its officers after the shooting in Dallas, "to be vigilant, to be alert. Actually, I'm also stressing that they use their vest, their bullet proof vests and to just be vigilant. I mean, these type of situations, I don't care how prepared we are, how much training we have, they happen."
The chief also said any officer who requests to ride in the car with another officer is accommodated.
Houston Police Officers Union president Ray Hunt is encouraging all officers to ride with a partner.
"A lone gunman is less likely to shoot at two people than he is to shoot... He's more likely to shoot at one if he can take him out because he has to make sure he gets them both or he's going to get killed," Hunt said. "So it just makes sense."
He said this may affect less urgent calls, for example for burglaries, since there will be fewer units on the street but not emergency response times.
The Black Lives Matter movement is planning a rally Friday night at Discovery Green to show solidarity with the peaceful protesters in Dallas.
Ashton Woods, an activist for Black Lives Matter in Houston, emphasized that in Dallas not just the police were targets.
"They actually shot into the crowd, not just at police but at everybody," he said. "Lives were lost and people were wounded by someone who had no regard for life in general."
He said the goals of the protest in Dallas were overshadowed by the shooter's actions.
Chief Montalvo said HPD is prepared and will treat the Houston rally like any other.
"People come up and tell us if there are issues," she said. "And that speaks to the relationship that these officers have with the people."
Both the chief and Mayor Turner emphasized Houston's diversity. But the mayor said it doesn't mean anything if communities are segregated.