Listen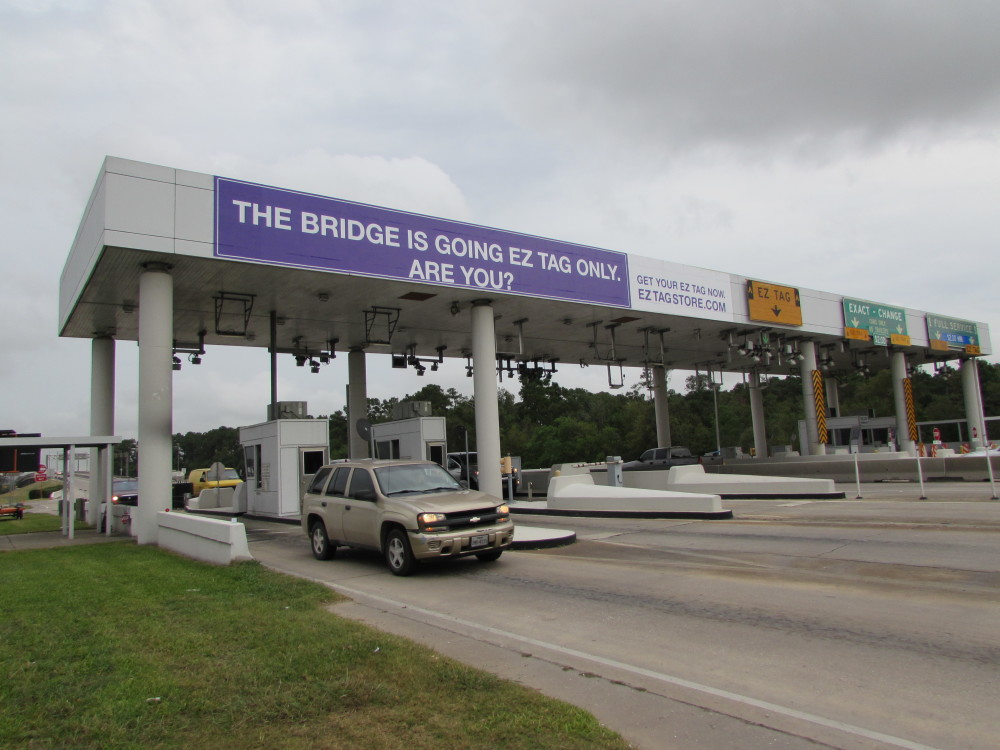 New reloadable EZ Tags are now being sold at HCTRA's Ship Channel Bridge.
News 88.7 Transportation Reporter Gail Delaughter recently visited the Harris County Toll Road Authority to talk with Deputy Director Lisa Castaneda. They discussed HCTRA's new website, along with the continuing challenge of tracking down toll road violators.
Delaughter: Tell us a little about the website and what it's going to do for people.
Castaneda: We looked at what people were calling into our call center, what kind of business they needed to take care of. And we tried to be as self-service as possible. So offering a website 24/7, 365, putting most of the things that customers are calling into the call center for, getting them off the phone, and being able to be self-service if they want to be.
Delaughter: What kind of self-service is available there?
Castaneda: Managing your account, that's probably the biggest one, and all the things associated with managing an account. But also when a lot of people are calling in they've had a violation. And so instead of having to call in through the call center, we've put in two new features to deal with violations to make it self-service for the customer.
Delaughter: So how are those violations going to be handled on the website?
Castaneda: If you have accidentally used the facility, you can go on and through a small convenience fee you can take care of your violation. The sooner you go to take care of your violation, the cheaper it is. The longer it goes the more expensive it gets. The process involved with trying to collect those tolls through the violation process is very expensive. We try not to pass that off to the customers who are paying.
Delaughter: So why doesn't the Harris County Toll Road Authority just let people pay after they've gotten on the toll road, either by phone or online?
Castaneda: That's a very expensive business model. We don't have a big demand for that. We don't want to take the additional cost of doing that and add it to the burden of people who are already paying in our existing model. Paying later, it's hard to enforce. It costs more money.
It starts by an image that's taken of the license plate. First of all, some of those image aren't going to be great. Some of them are intentionally obstructed. They have mud on them, whatever. You may never find that person, but you've got all these other people who are paying.
Delaughter: How much of a problem is that, when people don't get around to paying? We're heard stories about people who've racked up some very egregious violations over a period of time, so how much of a problem is that, to track down people who just don't pay?
Castaneda: It's a very costly problem to track it down for all those people who pay their tolls. We try to keep the tolls reduced to a reasonable amount. The people that we have to track down, that's why the fees do get expensive. We're not in the business to make money off people's violations. We're just passing the cost of what that violation is to the people who aren't paying. But it's pretty complicated to look for somebody after the fact.
Delaughter: How complicated is that, to actually track down someone on the toll road when they haven't paid?
Castaneda: We have set up some systems for our law enforcement. They have dedicated resources that are set up to always be looking for these top violators. And they pull over maybe 100 of them a day.
Egregious is the key word. These aren't first-time violators. These shouldn't be people who didn't know they owed the money. It shouldn't be people who are lost. If someone is new to Houston or visiting, they're not going to wind up on that list. But they should know they are on the toll road.
And that's part of the website. It allows people to be self-serviced, 24/7, 365. They can go on and they can take care of it for a very reasonable amount. They just can't repeat and do it again and again.