Listen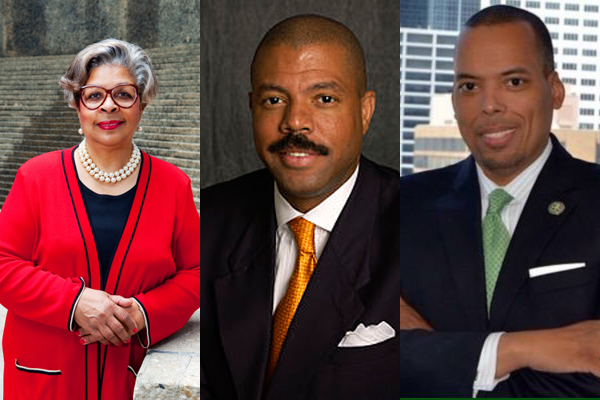 (L-R) State Representatives Senfronia Thompson and Borris Miles, and former Houston City Controller Ronald Green
Harris County Democratic politics are undergoing a major shift. Last month, party leaders named State Senator Rodney Ellis as their choice to replace the late El Franco Lee on County Commissioners Court. That set off a scramble to pick a new candidate for Senate District 13, the district Ellis has represented for more than a quarter century.
Under Texas law, the task of picking Ellis' replacement on the November ballot will fall to the 94 Democratic precinct chairs in his senate district. Three candidates are vying for the spot. They include State Representative Senfronia Thompson, State Representative Borris Miles, and former Houston City Controller Ronald Green.
Michael Adams, interim chair of the political science department at Texas Southern University, says Thompson and Miles are the favorites going into the contest. "Certainly Senfronia Thompson has a very long history of service in the Texas State Legislature, and to many people, she is considered to be the dean," he says.
While Thompson has the edge in experience, Miles holds a geographic advantage. "More than 63 of the precinct judges are in actually State Representative Borris Miles' [district]," Adams says.
District 13 runs across Harris County and into the northeastern corner of Fort Bend. No Republican candidate has registered for the district. That means whomever the precinct chairs choose when they meet July 16 will succeed Ellis in the Senate next January. If either Thompson or Miles wins the nomination fight, that will set off a fresh race, to decide who will represent the open seat in the state House of Representatives.