Listen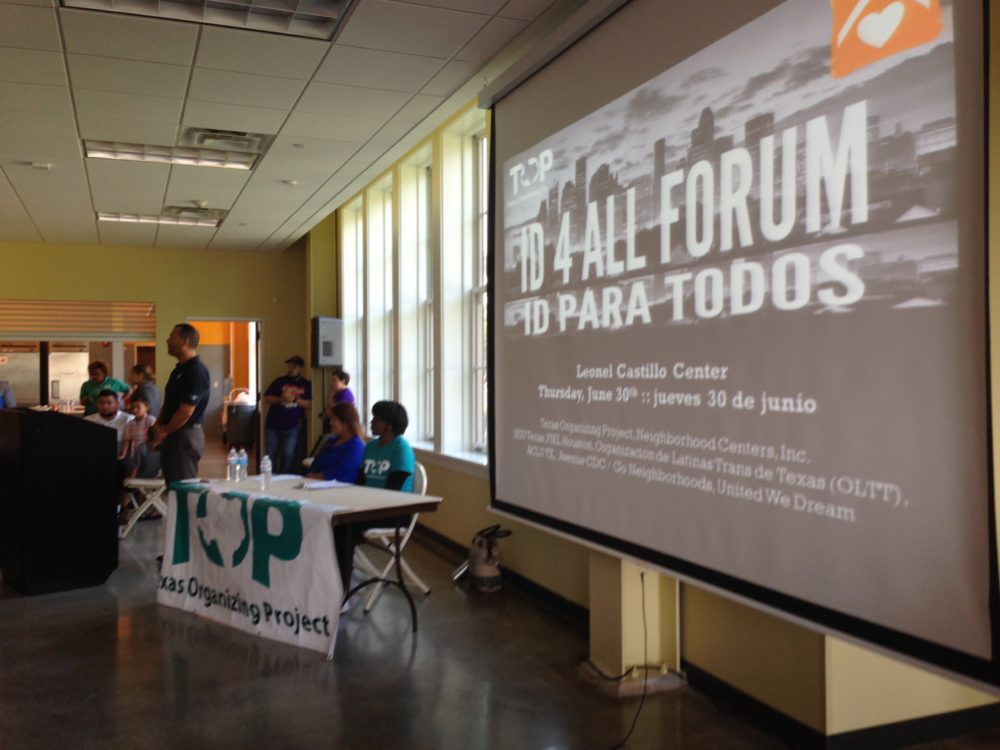 Neighborhood Centers and Texas Organizing Project held a forum on municipal IDs at the Leonel Castillo Community Center on June 30th.
Since the U.S. Supreme Court recently deadlocked on President Barack Obama's plan to protect millions of undocumented immigrants from deportation, there is a renewed push for another way to make life easier for them here in Houston: through municipal IDs.
Mariela Contreras, who is originally from Mexico and had been living in Houston for six years, is one of those undocumented immigrants.
Contreras is not able to get a state-issued driver's license and that makes her life complicated. That's why she would like to get a municipal ID.
"It would help me a lot," she says "especially to make me feel safer, to identify myself in paperwork, to request entering a school or a hospital."
One of the ways in which the IDs are useful is that local police departments typically accept them.
Houston doesn't currently issue municipal IDs, but Contreras, along with dozens of other people, recently attended a forum held at the Leonel Castillo Community Center to learn more about them.
The event, which was organized by Texas Organizing Project and Neighborhood Centers, included a presentation by Els de Graauw, a professor with New York's Baruch College who has done extensive research on this topic.
The possibility of City of Houston issued municipal IDs came up last year during the mayoral campaign. Now they are a priority for the local undocumented community because of a recent U.S. Supreme Court decision, which prevents the federal government from implementing its deferred action programs, known as DACA (specifically its expanded version) and DAPA.
Mary Moreno, communications director of Texas Organizing Project, one of the groups that put together the forum, notes that municipal IDs have become "more urgent" because people had that hope of getting DAPA and DACA.
"There were hundreds of thousands of Houstonians who were waiting for that and that would have given them everything they needed, they wouldn't have needed city-issued ID," adds Moreno.
However, undocumented immigrants aren't the only ones interested.
Experts say homeless persons, seniors, recently released inmates and members of the LGBT community could use municipal IDs too.
Gwendolyn Gwynn, a 66-year-old transgender woman who has had her share of complications, says that's her case.
"You have to literally jump through hoops to get a name and a gender change and I pull out my old ID with a handle bar moustache and my first name that says Michael and people look at me like I'm weird, I mean, where did I get this at?" explained Gwynn, who also attended.
Currently, several American cities issue municipal IDs, including New York, Newark and San Francisco.