Listen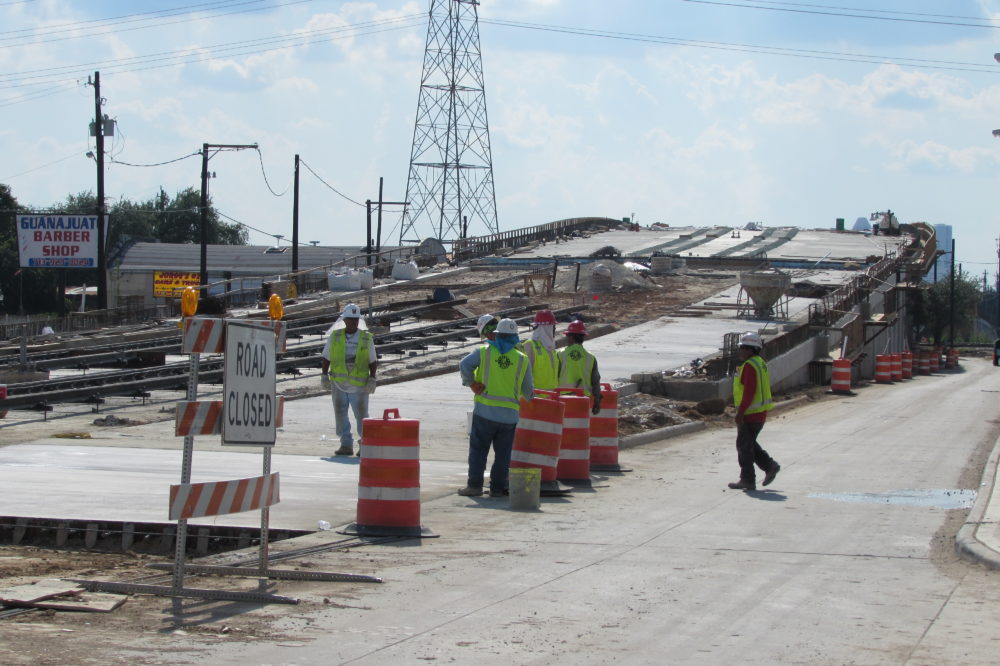 The Harrisburg overpass will carry both cars and light rail trains over the Hughes Street railroad crossing. There is also an at-grade crossing to allow access to businesses.
Right now the East End light rail line stops a few blocks short of the Magnolia Transit Center on Harrisburg. Metro was going to build an underpass at the Hughes Street railroad crossing, but cancelled those plans because of worries over contaminated soil. The agency is now putting the finishing touches on a new overpass that will carry both cars and trains.
Metro CEO Tom Lambert says they hope to let vehicles start crossing it on July 12.
"You're beginning to see the concrete pour for the bridge deck," says Lambert. "They're almost finished with that."
As for running trains on the overpass, Lambert says they'll probably start testing in September.
"There's a safety certification process that we have to work through," adds Lambert. "It just takes longer to do that. The track you're seeing is already being laid. So it's really the power systems, the power of the train, then testing the train, certifying the process."
Metro hopes it can start service on the overpass starting in December. And officials say getting to the transit center is crucial to the rail line's success. Ridership on the East End train is currently the lowest of all of Metro's three lines.
Metro board member Jim Robinson says once the train can get to the transit center, riders will have many more options.
"Once the train is running to Magnolia it will provide an opportunity for people to make a direct connection on the train into downtown," says Robinson. "And then if they want to go to the Medical Center, or wherever they'll then have a direct route to do that."
And board member Christof Spieler says it will be a better situation for cyclists.
"Magnolia Transit Center is also a great connection to the Bayou Greenways," explains Spieler. "So that this will let people up and down that bayou get on their bike and ride to light rail."
Businesses along Harrisburg are also happy to see that work come to a close. Some say they've lost customers because of all the construction.
At the request of the neighborhood, Metro also built an at-grade crossing to provide better access to those businesses.