Bob Lanier served as Houston's Mayor in the 1990s. Before that, he was Chairman of the Texas Transportation Commission. And he gets a lot of credit for kicking off the Grand Parkway project, the massive 180-mile loop that will eventually circle the Houston region.
Acting on a request from Harris County, transportation commissioners have designated segments of the roadway as the Bob Lanier Memorial Parkway. Grand Parkway Association President Billy Burge spoke before the commission and said it's a fitting tribute.
"The difference between a deal and no deal is passion," said Burge. "And he had passion for everything he did."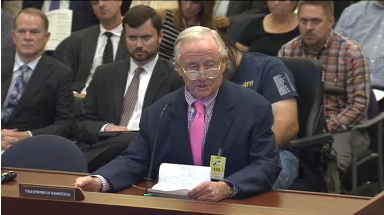 While the Grand Parkway will keep its official name, Bob Lanier Parkway signs will be put up on the roadside, and those signs will be paid for with private dollars. Lanier's widow Elyse Lanier also spoke in favor of the designation.
"Right now Bob is up there, sitting back with his great big cigar that he always loved, his feet on the desk with his boots, smiling full of joy with what is happening here," said Mrs. Lanier.
While Lanier is praised for his work on the Grand Parkway, he also had his critics. He was removed as Chairman of Metro's board in 1989 after he blocked former Mayor Kathy Whitmire's plan to build a monorail.
Lanier died in 2014 at the age of 89.