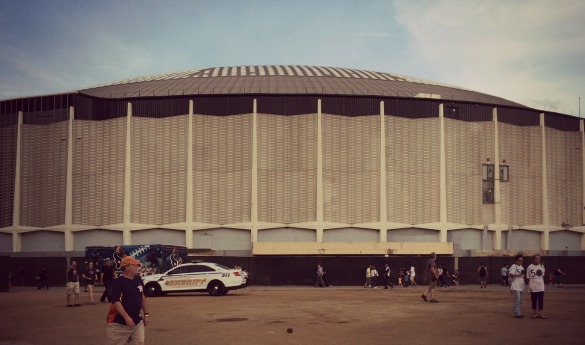 Yesterday (June 28, 2016), the Harris County Commissioners Court unveiled updated plans and cost estimates for preserving the Astrodome. The plan involves raising the dome's floor to ground level to create a 9-acre open space with air conditioning and building an underground parking garage with room for 1,400 vehicles.
Harris County Judge Ed Emmett says this plan would preserve the Astrodome's structure, and he added that events and festivals could use the new space.
On this edition of Houston Matters, we talk with Harris County Judge Ed Emmett about the latest plans for the Astrodome and take your questions and comments.
Also this hour:
Revitalization of Houston's Fifth Ward
Changes are happening all over Greater Houston, which can take many forms. It might be a high-rise in midtown, a master-planned community along the Grand Parkway or the revitalization of a 150-year-old neighborhood — making something old new again. That's exactly what's happening in Houston's Fifth Ward. That's the area north of Buffalo Bayou and east of White Oak Bayou. Edel Howlin went there to get a sense of what's been changing there — and learns about some of the fear that such change brings.
Simulated Space Missions Test Pseudo-Astronauts' Limits
And we learn about some simulated space missions happening inside a hangar at Johnson Space Center. Instead of real astronauts, the crews are made up of volunteers. It's designed to take test subjects to their breaking point so researchers can gather data about stress and leadership for the real-life astronauts who one day hope to embark on real deep-space missions. Paige Phelps tells us more.
Houston Matters offers a free daily, downloadable podcast here, on iTunes, Stitcher and various other podcasting apps.