Listen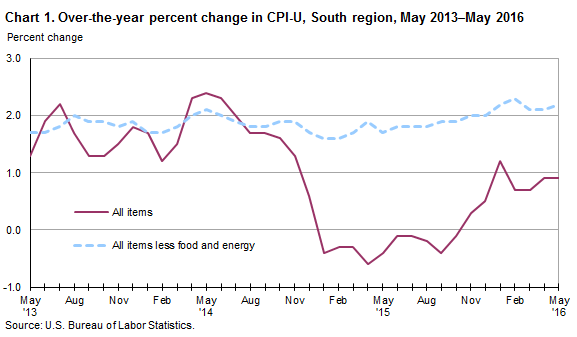 Bureau economist Timothy Ewing says the increase in May follows a recent pattern of modest monthly increases.
"Zero-point-four for one month change has been about the same. Obviously last year, if you're looking at the change, there was a period where we've seen a couple of negatives, where it actually declined. Start of the year, January we had no change at all over the month, and just a slight increase this year so far. So 0.4 is pretty much average for this year, 2016."
Ewing says since May of last year, food prices have gone up nearly half-of-a-percent. That was skewed by the higher cost of eating out. The average price of energy is up a bit more than four percent year-over-year. That can be attributed to higher gasoline prices — even though the price of gas itself is nearly 16 percent cheaper than a year ago.
Ewing says the overall modest inflation rate will be felt throughout the consumer economy.
"A lot of contracts are tied to this, whether it be rent contracts tied to the CPI — so you'll see that a lot. Social security increases — beneficiaries are tied to the CPI, whether social security benefits increase."
The items covered by the BLS survey include everything from food to apparel, as well as energy and car prices, hospital bills and medicine. Items have different weighted averages, as the Bureau tries to capture changes in what consumers are having to pay.