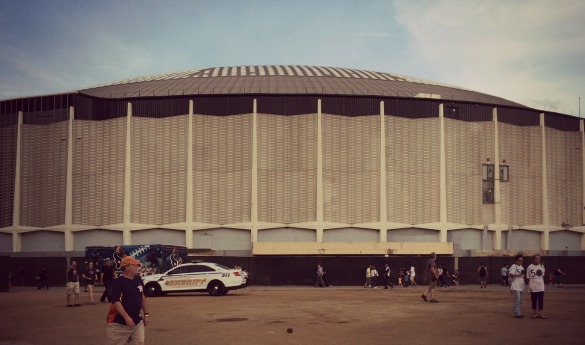 Officials are scheduled to meet next week to unveil final plans and cost estimates to re-purpose the Astrodome. Aside from what Judge Emmett and company might unveil then is yet another plan — this one from a Houston architect — that suggests stripping the Dome down to its bare bones.
On this edition of Houston Matters, we learn more about James Richards' idea for re-purposing Houston's most iconic building.
Also this hour:
Environmental Atlas
A new book offers a comprehensive, statewide picture of environmental issues and conservation efforts across Texas. The Texas Landscape Project: Nature and People compiled data from several agencies and groups to offer a better look at the environmental state of Texas.
The Good, The Bad and The Ugly
A lot can happen in a week. Some of it good. Some of it bad. Some of it downright ugly. When faced with intriguing developments in the week's news, we turn to our rotating panel of "non-experts" to parse The Good, The Bad and The Ugly of it all.
This week, we discuss: House Democrats staging a sit-in over gun-control measures, Texas becoming a worse place to be a kid – according to one assessment, and the Sky Lobby inside the Chase Tower closing to the public. This week's panel includes: Mary Flood, Tamara Tabo and Charles Kuffner.
The History and Significance of Post Oak Boulevard
On Monday, June 27, at 9 p.m., Houston Public Media TV 8 will air a documentary called Post Oak Boulevard: A Texas Legacy. It's produced by the Texas Foundation for the Arts. One person who is featured prominently in the documentary is Robert Sakowitz, a local commercial icon. Robert joins us to talk about the film and why one street in Houston needed its own documentary.
Houston Matters offers a free daily, downloadable podcast here, on iTunes, Stitcher and various other podcasting apps.