Listen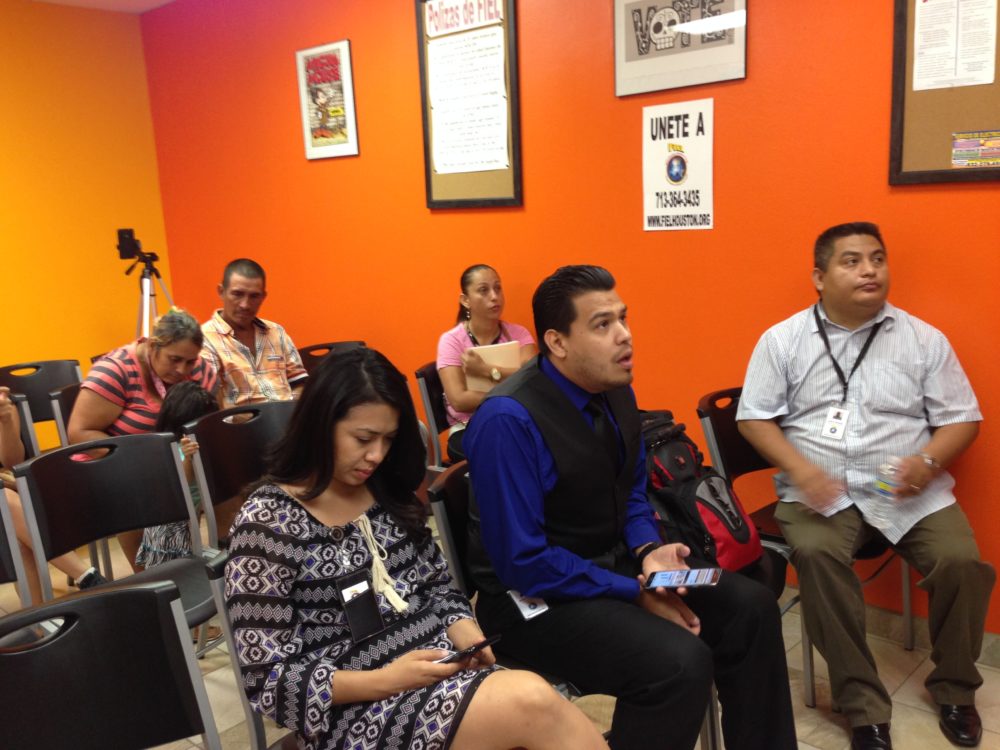 Undocumented immigrants and advocates watched the U.S. Supreme Court's decision live at the Houston office of Immigrant Families and Students in the Struggle, commonly known as FIEL by its acronym in Spanish.
The U.S. Supreme Court is in a deadlock over President Obama's executive order to protect millions of immigrants from deportation.
The tie decision leaves in place another ruling from a Texas judge that put the president's plan on hold and members of the local immigrant community feel frustrated about it.
A couple of undocumented families gathered at the Houston office of Immigrant Families and Students in the Struggle, commonly known as FIEL by its acronym in Spanish, to follow the Supreme Court's ruling live.
Hilda Espinosa was one of them.
Born in Monterrey, Mexico, Espinosa is 38-years-old and has lived in Houston for 19 years.
She has two children who have been born in the United States and wants to apply for the program known as DAPA, which stands for Deferred Action for Parental Accountability.
Espinosa was in dismay when she learned about the court's decision.
"We were hoping for something in our favor. It's very sad seeing when they tell you can't go forward, your dreams end in a bad way," she explained.
Immigration experts estimate about 200,000 undocumented immigrants who live in the Greater Houston area may qualify for deferred action programs.
Cesar Espinosa, FIEL's founder and executive director, noted the court's decision will have repercussions.
"It's a very big deal," Espinosa said of the ruling "because a lot of families are still going to be left in limbo. They're still going to be left with possible deportations, but we are going to continue to work with these families so that we can protect them and defend them against any sort of deportation."
Texas top government officials praised the ruling.
Gov. Greg Abbott said in a statement that DAPA and the expanded version of the Deferred Action for Childhood Arrivals, DACA, program are an "unauthorized abuse of presidential power."
Lt. Gov. Dan Patrick called the court's ruling "a major victory for Texas."
Abbott filed the lawsuit that started the legal battle over deferred action in December of 2014 when he was the state's attorney general.
Houston Mayor Sylvester Turner indicated in a statement that the legal process over the expanded DACA and DAPA "has been bad for the economy, hurts families and has stalled desperately needed changes to the federal government's immigration policies."