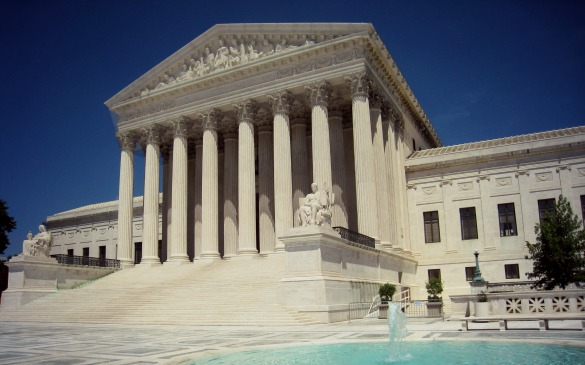 On Thursday, the U.S. Supreme Court handed down decisions in two of the three pending major cases tied to Texas. The court deadlocked 4-4 on President Obama's plan that would have shielded millions of immigrants from deportation. And, in a 4-3 decision, the court upheld the affirmative action program at the University of Texas.
On this edition of Houston Matters, we discuss the rulings with Josh Blackman, associate professor of law at Houston College of Law (formerly known as South Texas College of Law).
Also this hour:
Renewing a Controversial Immigration Program
Today (June 23, 2016), Harris County Sheriff Ron Hickman is expected to announce he'll renew the controversial 287(g) program. The program authorizes federal agents from ICE (Immigration and Customs Enforcement) to partner with the Harris County Jail and select inmates who are in custody for other alleged crimes to undergo background checks that could lead to their deportation. The federal government says such partnerships with local law enforcement keep the homeland safer. While opponents say it creates fear of law enforcement in immigrant communities and splits families apart for no good reason.
We hear from Sheriff Hickman on why he's decided to renew the program, and Paige Phelps speaks with Sebastian Troitino with the group Houston Beyond ICE, which is opposed to the renewal of 287(g).
Fighting Chronic Absenteeism
The U.S. Department of Education recently released a report on chronic absenteeism, which is defined as missing 10 percent of more of the school year — which equates to about two days a month. According to that report, more than 600,000 children in Texas were chronically absent during the 2013-2014 school year. A separate report from last year found about 21,000 students in HISD were chronically absent during the 2014-2015 school year.
To discuss what the school district is doing to address chronic absenteeism, we talk with Lauren Caruba, an investigative fellow with the Houston Chronicle.
A Murder in Montrose
We learn about the story of Paul Broussard, a Houston-area banker who was murdered 25 years ago. The murder occurred not far from a Houston nightclub in what was then considered a gay-bashing incident by nine high school students and one 22-year-old. How the city responded — and the political and social reverberations of that murder — are the subject of a new documentary called A Murder in Montrose. It debuts on Houston Public Media TV 8 tonight (June 23, 2016) at 8.
Houston Matters offers a free daily, downloadable podcast here, on iTunes, Stitcher and various other podcasting apps.