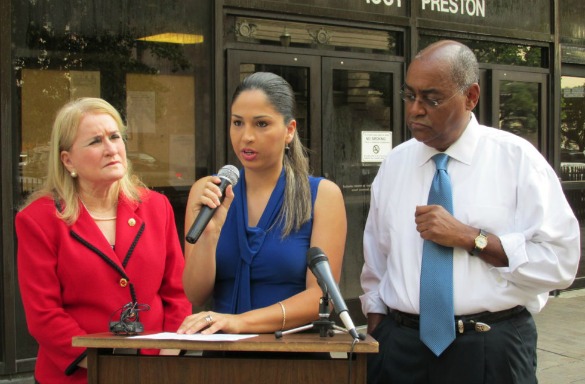 Today (June 23, 2016), Harris County Sheriff Ron Hickman will hold a press conference announcing he will renew the controversial 287(g) program.
The program authorizes federal agents from ICE (Immigration and Customs Enforcement) to partner with the Harris County Jail and select inmates who are in custody for other alleged crimes to undergo background checks that could lead to their deportation.
The federal government says such partnerships with local law enforcement keep the homeland safer. While opponents say it creates fear of law enforcement in immigrant communities and splits families apart for no good reason.
We hear from Sheriff Hickman on why he's decided to renew the program, and Paige Phelps speaks with Sebastian Troitino with the group Houston Beyond ICE, which is opposed to the renewal of 287(g).
(Above: Texas State Senators Rodney Ellis and Sylvia Garcia stand with Diana Rivera-Cardoza with United We Dream at an event June 14, 2016. Photo: Florian Martin, Houston Public Media)
MORE:
Advocates Urge Harris County To Drop Immigration Enforcement Program (News 88.7, June 14, 2016)