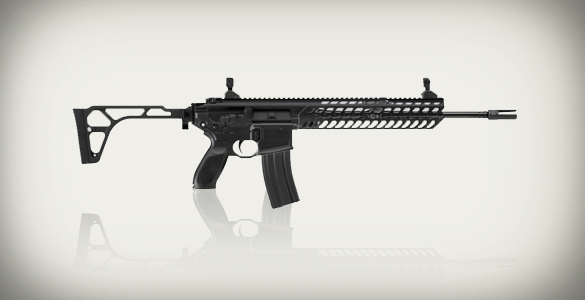 Four different gun-control measures failed to pass the U.S. Senate Monday (June 20, 2016). The measures, in response to the deadly Orlando nightclub mass shooting, came from both sides of the aisle. They included proposed changes to background checks for gun purchases, expanding background checks to include private sales of firearms at gun shows and on the Internet, and barring gun sales to anyone who was on the terrorist watch list in the past five years.
One of the weapons shooter Omar Mateen used in the deadly attack was a Sig Sauer MCX, a weapon the manufacturer describes as a tactical rifle; the fully automatic version of it is designed for use by U.S. Special Forces. While fully automatic versions of weapons like the MCX are illegal for civilians to own, their semi-automatic versions are not. Mateen bought his rifle legally. But should he have been able to? Is the Second Amendment's "right of the people to keep and bear arms" so absolute that it should cover weapons like his – and high-capacity magazines?
On this edition of Houston Matters, we ask two Houstonians with opposing views to share their thoughts. Edwin Walker is a program attorney with the legal services firm Texas Law Shield, which supports the continued legal availability of such weapons. And Alexandra Chasse is a spokesperson for Moms Demand Action for Gun Sense in America, which opposes their availability.
Also this hour:
Eliminating Zika-Bearing Mosquitos
On a recent program, we discussed how health officials are combating the Zika virus in the region, despite being underfunded. Among the questions raised was whether we could just eradicate the mosquito that carries the virus altogether. Dr. Peter Hotez from Baylor College of Medicine says it's been done before, in Central America back in the 1940s, '50s, and '60s. He tells us what he thinks it would take to do it today.
History of Activism in Houston
Recently, Houston Public Media's Ernie Manouse joined us to briefly discuss the story of Paul Broussard, a Houston-area banker who was murdered 25 years ago. The murder occurred not far from a Houston nightclub in what was then considered a gay-bashing incident by nine high school students and one 22-year-old. How the city responded, and the political and social reverberations of that murder, are the subject of a new documentary called A Murder in Montrose. It debuts on Houston Public Media TV 8 Thursday night (June 23, 2016) at 8. In conjunction, we discuss the history of how activism — on behalf of numerous social causes in Greater Houston — has changed since then.
Organists Convention
The American Guild of Organists National Convention is in Houston this week, showcasing performances, world-class instruments, workshops and new organ music. We learn more about the organist community in Houston.
Houston Matters offers a free daily, downloadable podcast here, on iTunes, Stitcher and various other podcasting apps.