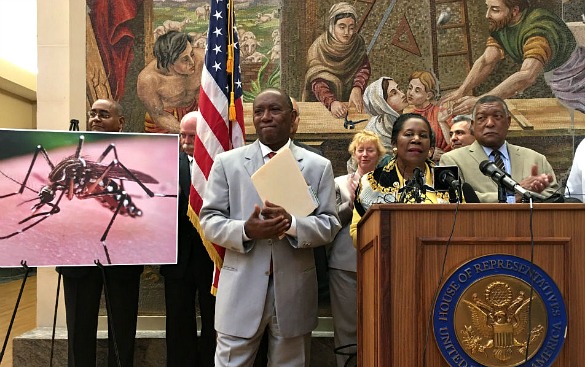 Houston officials at both the city and county levels say efforts to prevent the spread of the Zika virus are underfunded. While Pres. Obama requested $1.9 billion to fight the disease back in February, the US House and Senate each have approved even less. At a press conference last month (May 23, 2016), Mayor Sylvester Turner called the House funding bill "woefully inadequate." Both the city and county say they need millions more to prevent an outbreak in Greater Houston.
With that in mind, how are local agencies pressing forward in their Zika-prevention efforts, and how are they dealing with the dual challenges of both reduced funding and recent widespread flooding in regards to preventing mosquito-borne illnesses? On this edition of Houston Matters, we talk with the executive director of Harris County Public Health & Environmental Services, Dr. Umair Shah, and Dr. David Persse, the City of Houston's Public Health Authority.
(Above: Houston Mayor Sylvester Turner and Congresswoman Sheila Jackson Lee speak out for federal Zika funding at St. Joseph Medical Center in downtown Houston on May 23, 2016. Photo: Carrie Feibel, Houston Public Media)
Also this hour:
What Really Put Water on the Moon
As dry as it may look, the moon actually has water inside it. And a new study by a team of researchers says most of that water is there because of asteroids — not comets — as some scientists thought. Dr. David Kring, of Universities Space Research Association, working at Houston's Lunar and Planetary Institute, is one of the co-authors of that study. He tells Maggie Martin discovering water inside the moon took about 40 years of work after the Apollo astronauts brought samples back to earth — and we're still learning about the planet's lone satellite.
The Good, The Bad and The Ugly
A lot can happen in a week. Some of it good. Some of it bad. Some of it downright ugly. When faced with intriguing developments in the week's news, we turn to our rotating panel of "non-experts" to parse The Good, The Bad and The Ugly of it all. This week, Lisa Falkenberg, Vlad Davidiuk and Fred Goodall examine a city council member's staffer being fired after trying to block a Muslim man from a precinct chair appointment based on his religion; Lt. Gov. Dan Patrick's Bible verse tweet the day of the Orlando shooting; and an all-night youth lock-in at a Katy water park getting out of hand.
Conductor Hans Graf
Saturday night (June 18, 2016) at 7:30 at the Moores Opera House at the University of Houston, former Houston Symphony conductor Hans Graf will make his first appearance at the Texas Music Festival, the month-long intensive program for students aspiring to become professional symphony musicians. Graf is leading the orchestra in a program of three technically demanding works by early 20th century composers: Sergei Rachmaninoff, Alban Berg and Anton Webern. He tells News 88.7 arts and culture reporter Amy Bishop about the performance and about the experience of conducting at music festivals.
Houston Matters offers a free daily, downloadable podcast here, on iTunes, Stitcher and various other podcasting apps.