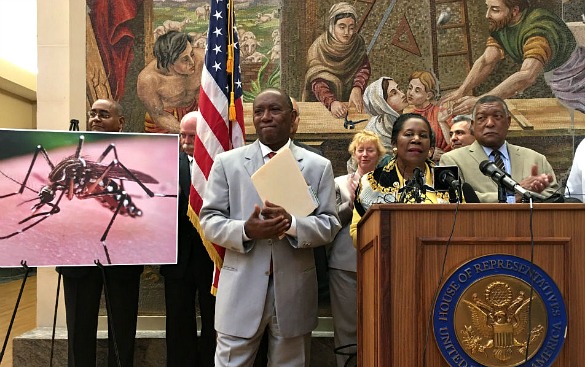 Houston officials at both the city and county levels say efforts to prevent the spread of the Zika virus are underfunded.
While Pres. Obama requested $1.9 billion to fight the disease back in February, the US House and Senate each have approved even less. At a press conference last month (May 23, 2016), Mayor Sylvester Turner called the House funding bill "woefully inadequate." Both the city and county say they need millions more to prevent an outbreak in Greater Houston.
With that in mind, how are local agencies pressing forward in their Zika-prevention efforts, and how are they dealing with the dual challenges of both reduced funding and recent widespread flooding in regards to preventing mosquito-borne illnesses?
In Texas, the task of disease prevention falls to local health departments, such as Harris County Public Health & Environmental Services. That agency's executive director, Dr. Umair Shah, joins us along with Dr. David Persse, the City of Houston's Public Health Authority.
(Above: Houston Mayor Sylvester Turner and Congresswoman Sheila Jackson Lee speak out for federal Zika funding at St. Joseph Medical Center in downtown Houston on May 23, 2016. Photo: Carrie Feibel, Houston Public Media)
MORE:
Houston Politicians Plead For Congress To Approve Zika Funding Quickly (News 88.7, May 23, 2016)
Mayor Turner: Feds Zika Funding 'Woefully Inadequate' (Houston Chronicle, May 23, 2016)
In Texas, State Offers Little Help with Zika Prevention (Texas Tribune, June 3, 2016)