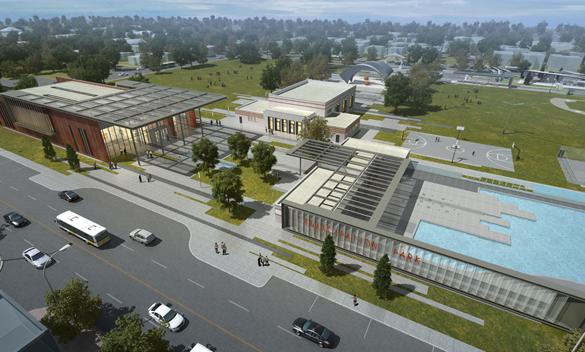 This Sunday (June 19, 2016) marks Juneteenth. It's the day when Union soldiers arrived in Galveston to announce the end of slavery in the United States. Starting in 1872, Juneteenth celebrations were held at Emancipation Park in Houston's Third Ward.
This is only the second year since then that Juneteenth will not be held at the park. That's because the $33 million renovation was delayed by recent rain storms. Emancipation Park is expected to open by the end of this summer.
Dorris Ellis is publisher and editor of the Houston Sun newspaper, and president of Friends of Emancipation Park. She tells Maggie Martin about the park's history and where it's headed.
(Above: An artist's rendering of renovations planned for Houston's Emancipation Park. (Photo Courtesy: Architect Philip Freelon/Freelon.com)
MORE:
Historic Emancipation Park Overhaul is Just Part of the Plan to Re-Energize the Third Ward (CultureMap Houston, March 17, 2013)
Freedom in Progress: A Brief History of Juneteenth (Houstonia Magazine, May 31, 2015)