Listen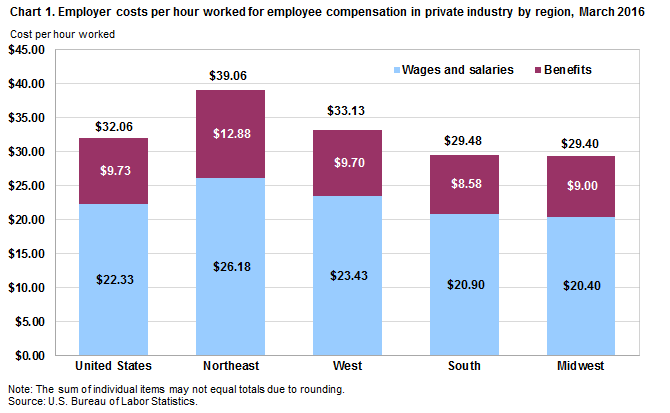 Total compensation costs covers wages and salaries, as well as benefits.
"This survey is more of a current snapshot of what it actually costs employers to employ their workers," said Cheryl Abbot, a regional economist with the Southwest Office of the U.S. Bureau of Labor Statistics.
For the South, employer costs average about $21 an hour for wages and salaries, and about $8.60 for benefits. That adds up to about $29.50 per hour. Compare that to the Northeast, where wages and salaries average $26 and benefits average $13 per hour. That's about $39 per hour — almost $10 an hour higher than in the South.
"You know, there are variations, but wages are going to account for about 70 percent and benefits about 30 percent of total costs," Abbot said. "And our benefits include everything from social security contributions to vacation and insurance."
How can this data help employers?
"Primarily to see how their average hourly costs might compare to the averages in their area," she said. "Because it's possible that they're paying figures that are too low to attract and keep the type of workers they want to."
The national average of all four regions is $32 an hour.