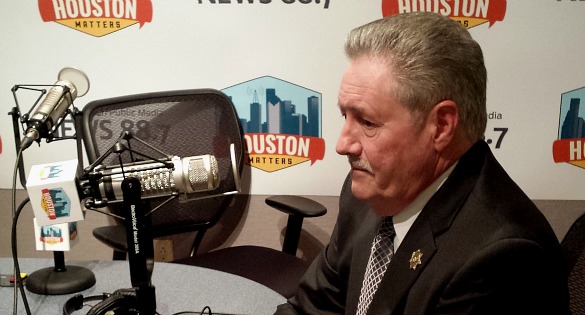 The Houston Chronicle recently reported that there have been five deaths in the last year at the Harris County Jail during Sheriff Ron Hickman's tenure. The most recent death — due to head trauma — happened while the inmate was being processed in a holding cell. The incident has sparked an inquiry from the U.S Department of Justice.
This all comes amidst recently announced criminal justice reforms in Harris County aimed at keeping people out of the jail system — things like diversion programs for first-time offenders, a new tool for judges to help make decisions around whom to release before standing trial, and grants from the MacArthur and Arnold Foundations to fund other reforms.
We hear Harris County Sheriff Ron Hickman's response to those deaths and his plans to improve conditions in the jail. And Houston State Sen. Rodney Ellis expresses his desire for more jail reforms, particularly when it comes to bail bonds. They both spoke with Houston Matters producer Edel Howlin.
(Above: Harris County Sheriff Ron Hickman speaks on Houston Matters, Feb. 10, 2016. Photo: Maggie Martin, Houston Public Media)
MORE:
Four Have Died in Harris County Jail During Hickman's Tenure (Houston Chronicle, May 14, 2016)
Sheriff Hickman Defends Changes in Jail Oversight (Houston Matters, Feb. 10, 2016)
Sen. Ellis Reacts to Lawsuit Against Harris County Criminal Justice System (RodneyEllis.com, May 19, 2016)