Listen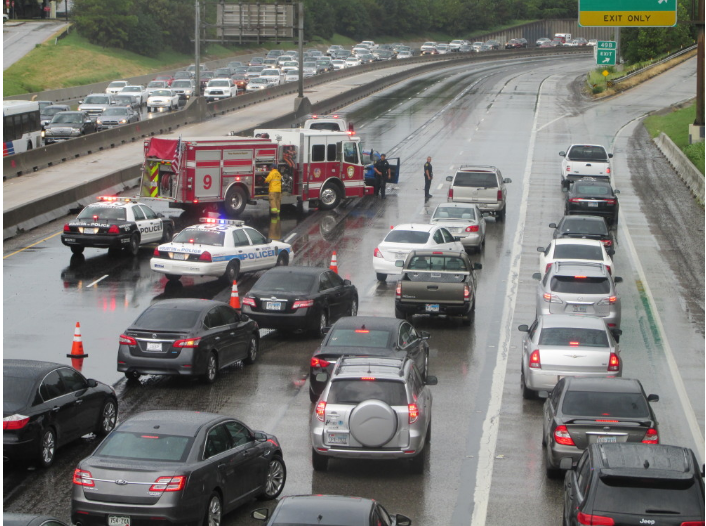 Houston Police stop traffic after a crash on rain-slick I-45 North.
Every year in the Houston region, hundreds of people get into traffic crashes. They happen all over, from rural roads to busy freeways. And many of those crashes result in serious injuries or fatalities.
Those high numbers have prompted the Houston-Galveston Area Council to bring back its Regional Safety Council. From the News 88.7 Transportation Desk, Gail Delaughter talked with H-GAC Traffic and Safety Planner Jeff Kaufman about what they hope to accomplish.
Transcript:
Delaughter: The H-GAC Regional Safety Council was formed several years ago. It went dormant for awhile and you recently brought it back. Why did you decide to bring the group back together?
Kaufman: The region has a significant problem with traffic safety. In 2014 we had over 130,000 serious crashes, crashes where either there's some significant property damage, somebody was injured, or somebody lost their life. We had 618 fatalities, traffic-related fatalities in the Houston-Galveston area. In comparison we had 377 murders.
Delaughter: What's the reason for all these crashes? Is it road design, driver error, or something else?
Kaufman: I would say it's a combination of the two. Road design can definitely play a factor in this. One of the things we're looking at is there are a lot of opportunities for crashes on the roadway. For example, anywhere where a road intersects another road, or where a road intersects a driveway, you have an opportunity for a crash, what we call a conflict point. You have roadways that may not be well-lit. In rural areas especially you might have some roads that have severe curves that if not taken appropriately, someone could end up off the roadway. And there's definitely a lack of pedestrian-bicycle infrastructure.
However when you look deeper into these crashes and into these reports, you see there is a greater instance where human error plays a much larger role.
Delaughter: And if you're texting or distracted in some way, and maybe a stop sign is obscured, you're going to go right through it. But if you're paying attention you might notice some of these variables.
Kaufman: Distractions in general in the car are becoming increasingly a problem with traffic safety, and how that plays into the crash situation in the area. Drunk driving is a considerable problem. Speeding, running red lights—we have the ability not to do these things.
Delaughter: What's the cost of traffic crashes in the Houston region when you put a dollar amount on it?
Kaufman: Estimated cost for 2014 was approximately $5.7 billion.
Delaughter: So how will regional cooperation help keep things safer on the roads when you're able to get people on board from different jurisdictions?
Kaufman: We travel back and forth throughout our region. So this is something throughout our travel shed that we have to be on the same page in terms of how to address it.
Delaughter: What are some of the things that you're looking at in terms of low-cost, short term quick fixes to help solve some of these problems in the region?
Kaufman: One of the things we need to be focusing on is additional education about traffic safety. A lot of this, there's a human element involved. We make decisions about how we are going to behave on the roadway. It's not that we go out to intentionally cause a crash to occur. However we need to push the point about the dangers of some of these actions that we are committing either intentionally or unintentionally, so people will think twice about how they drive on the freeway.