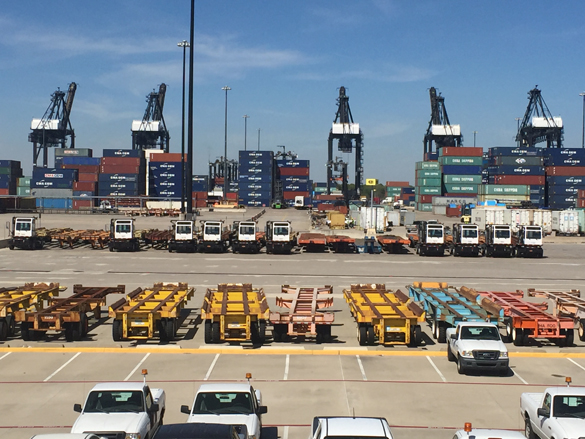 The Transatlantic Trade and Investment Partnership aims to streamline trade between the United States and the European Union. With so much international trade going through the Port of Houston, how will this deal affect the Greater Houston region?
On this edition of Houston Matters, we ask the pro-business Greater Houston Partnership's Horacio Licon. He's the partnership's vice president of international investment and trade.
Also this hour:
Longtime Houston Reporters Discuss Changing Region and Media Landscape
We bring three longtime Houston reporters together to discuss the major stories they've covered over the years, and how the region — and reporting on it — has changed. We welcome your questions for KPRC veteran Phil Archer, Houston Chronicle columnist Mike Snyder, and former Chronicle, Houston Post, Houston Press, and Wall Street Journal reporter Mary Flood.
Radiation Detection, Twitter Trolling, and 9 DWIs: The Good the Bad and the Ugly of Houston News
A lot can happen in a week. Some of it good. Some of it bad. Some of it downright ugly. When faced with intriguing developments in the week's news, we turn to a rotating panel of "non-experts" to parse The Good, The Bad and The Ugly of it all. Today, the Breakfast Klub's Marcus Davis, oil and gas consultant Natalie Arceneaux, and "Native Texan" columnist Joe Holley discuss Houston receiving federal support to prepare for nuclear threats, a Texas lawmaker trolled on Twitter by a fake Congressman and a Houston man sentenced to life in prison after his ninth DWI conviction.
A Conversation with Houston Astros' PA Announcer Bob Ford
A lot has changed about the Houston Astros in just the past few seasons – from the players on the field to the team's ownership to even the uniforms. But Michael Hagerty takes us behind the scenes of one aspect of Astros games that hasn't changed in more than 20 seasons.
Houston Matters offers a free daily, downloadable podcast here, on iTunes, Stitcher and various other podcasting apps.