Listen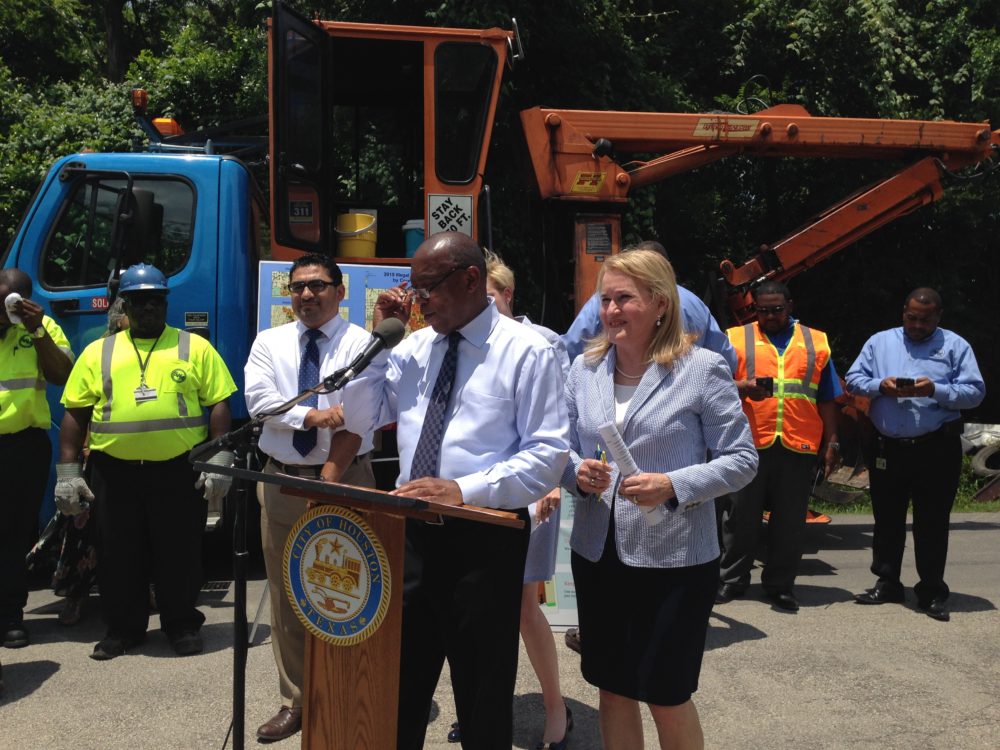 Houston Mayor Sylvester Turner (center) held a press conference in a north Houston neighborhood to ask state authorities to provide the city with additional funding to fight the Zika virus.
Houston Mayor Sylvester Turner wants Texas Gov. Greg Abbott to declare the Zika virus a public health emergency.
That measure would help Turner make his case for asking the Texas Commission on Environmental Quality,TCEQ, to provide funds for waste disposal.
The TCEQ has $130 million set aside for operations of that kind through the Solid Waste Disposal Fees Account.
Turner says he would use the funds to continue and improve a clean-up program which targets illegal dumping locations, which are potential breeding grounds for the mosquitoes that can carry the Zika virus.
"With additional funding, the city could purchase new equipment to increase the frequency of these neighborhood sweeps beyond the weekends, develop and distribute educational materials informing residents about proper and free disposal options," said Turner during a press conference held in north Houston where he was supported by several members of the Texas Legislature like Sylvia Garcia, Sarah Davis, Senfronia Thompson and Armando Walle.
The city has spent more than $3 million in clean-up operations, since they started them back in February.
Tina Escamilla, a resident of the neighborhood where Turner held his press conference, says she is worried about the potential spread of Zika and something must be done.
"I live here for 30 years and I just see more mosquitoes now than before, you know, than years before. It's really, really, really, really worse," Escamilla said.
Data from the Texas Department of State Health Services indicate that, as of June 9th, Harris County has had 13 cases of Zika, the most in the whole state.