Listen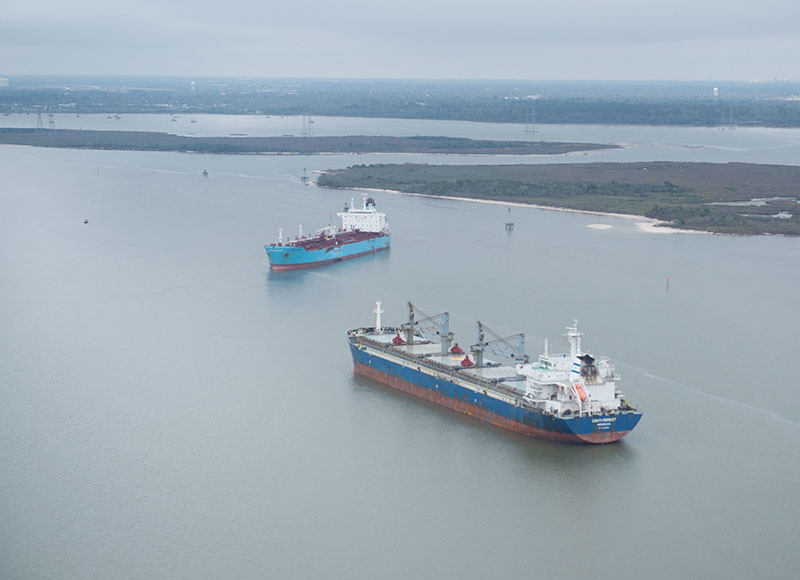 The chemical tanker Carla Maersk and the bulk carrier Conti Peridot off Morgan's Point, Texas, March 10, 2015, after being involved in a collision March 9, 2015. The Maersk was carrying about 216,000 barrels of Methyl Tertiary Butyl Ether and an unknown quantity of the product was spilled.
The Houston Ship Channel was blanketed in heavy fog when that incident happened just after midnight on March 9, 2015.
The bulk carrier Conti Peridot was headed inbound when it collided with a tanker headed outbound. The accident resulted in the spill of over 88,000 gallons of a flammable chemical. Damage to the ships was over $8 million.
As for what caused the collision, NTSB Chairman Christopher Hart said there was a huge lack of communication and problem-solving between the pilot and the ship's captain.
"It was noteworthy that the master of the Conti Peridot was not aware, or at least did not express awareness of the difficulty of lateral control that the pilot was having on his ship," Hart said.
And as for port operations, Hart said there needs to be a better way to keep track of vessels in the fog.
"Instead of deciding in the moment, we've got fog, what are we going to do, there needs to be a predetermined strategy that helps define who decides whether the weather is bad enough for changing the way to operate," he added.
In its report on the collision, the NTSB recommends that the operators of the Conti Peridot and the Houston Pilots Association improve their training on how crews can communicate more effectively in tense situations.