Listen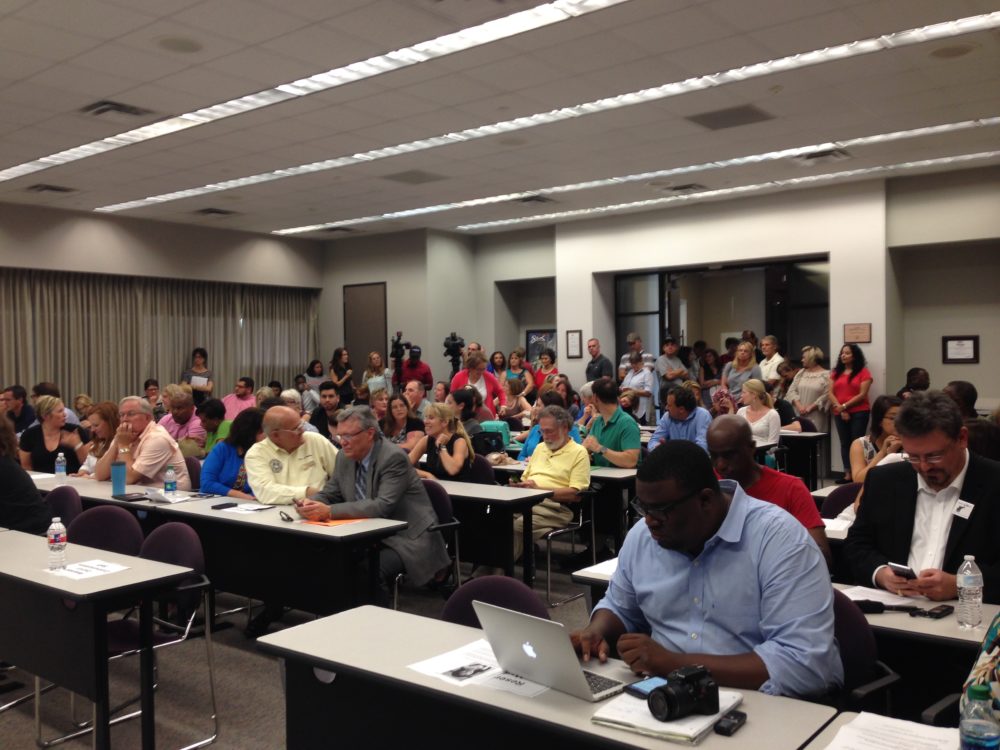 The meeting room at the Humble ISD's Administration Building was completely packed with parents, teachers and members of the community who wanted to attend the meeting about the hiring of Elizabeth Fagen.
The Humble Independent School District board met on Wednesday, June 8th to discuss its choice for the next superintendent, but there is a vocal opposition to the finalist.
Dozens of parents and teachers packed the administration building to attend a meeting designed to inform the community about Elizabeth Fagen who, after a national search that involved 43 applicants, has become the finalist for the superintendent position, to succeed Guy Sconzo.
According to a news release from the Humble ISD, Fagen has 20 years of experience in the field of education.
During the past few weeks, several parents have expressed concerns about the selection.
One reason is Fagen's involvement in a school voucher program for her current school district in Douglas County, Colorado, where she is the superintendent.
Fagen's potential support of a merit or market-based pay system for teachers is another concern of some parents and activists.
Board Vice President Keith Lapeze took about three hours to defend the board's decision.
One of the things he emphasized is that the Humble ISD board is against vouchers and that will not change.
Lapeze said the group's choice is clear.
"The board is unified that she is the best choice for Humble ISD. Just so you know, the controversy is manufactured, it's driven by politics, it's based on false information and ignorance, I've shown you the data," indicated Lapeze, who presented several data about Fagen's performance as superintendent of the Douglas County School District.
In his presentation, Lapeze even read emails Fagen has received from several coworkers and staffers who praised her work in Colorado.
During the section of the meeting dedicated to public speakers there were opposing views.
Norman Funderburk, a regular at the school district's meetings, said he is confident the board is making the right choice with Fagen.
"I have complete faith and trust in the board and the extensive process that was explained here tonight," noted Funderburk, who said several generations of his family have gone through the Humble ISD system.
Adam Bauserman disagreed and said he has done some of his own research about Fagen because he is originally from Colorado and did not like what he found.
"I've called some of the same people they say they have talked to," Bauserman commented referring to the board members "and not heard the story that was spun this evening."
"My best friend's wife works in that district and she is trying to find a new job because of how bad it was. We have friends that have left the state or the area because of how bad it was," added Bauserman.
The board is scheduled to vote on hiring Fagen next week.