Listen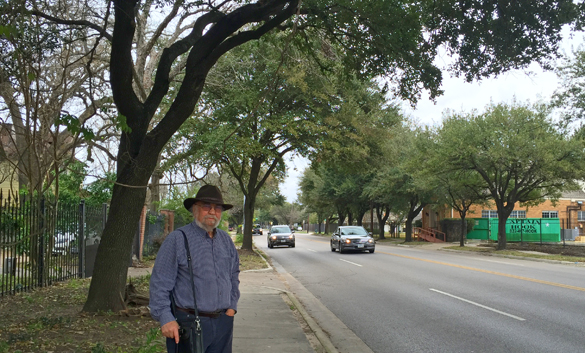 Jonathan Smulian with the Houston Heights Association wants part of Yale Street be designated a "green corridor."
Some 500 trees line both sides of Yale Street in the Heights. They were planted by residents in 1987.
"And with the street changing its character very quickly, we felt that we should try to get more protection for the trees which line the street," said Jonathan Smulian with the Urban Forestry Committee of the Houston Heights Association.
A couple of years ago, the group found a provision in the city's code of ordinances that had never been used: It allows for the designation of a "green corridor," where trees with 15 inches or more diameter may not be cut down without the approval of the city's parks department and replacing them or paying a fee.
The group collected signatures from commercial property owners along Yale between Sixth and 19th Street, a 1.6 mile stretch, to present to the city.
Seventy-six percent were in favor of the designation, just enough to meet the "green corridor" criteria.
On Wednesday, Smulian and other supporters spoke at a public hearing before City Council.
Council member Karla Cisneros liked the idea. She said it could be the first of several green corridors in the city.
"We also need to think about potential corridors that maybe don't even have trees on them that would help us then link these thoroughfares and create this network through our city," she said.
Mayor Sylvester Turner seemed open to the idea but emphasized it has to come from the residents.
"This is where the people in the community – people along the streets, the corridor – are asking us to do it and simply asking us to ratify something they already want," he said.
Turner said he will wait to present the Yale Street green corridor designation for a city council vote until two or three weeks from now to make sure more residents will have an opportunity to weigh in.
The ordinance does not affect residential homeowners or trees on private commercial property behind a designated setback.
Editor's note: This story was updated with more information.