Listen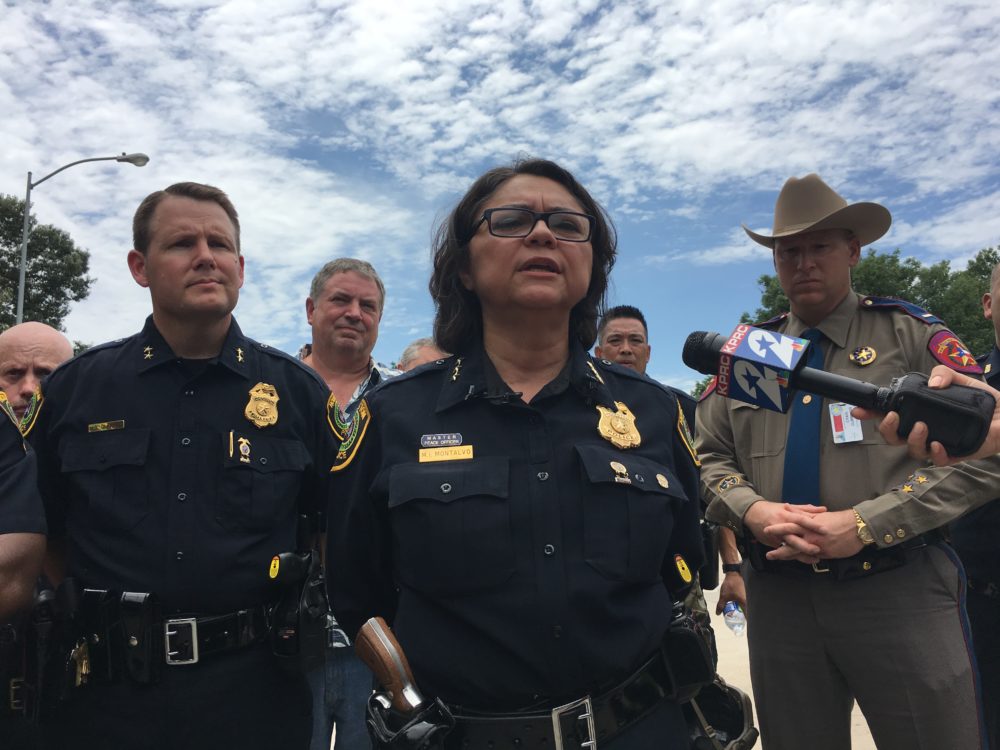 Houston Police Interim Chief Martha Montalvo speaks during press conference Sunday.
Two people are dead, including one suspect, and several others injured after an active shooter situation Sunday on Memorial Drive and Wilcrest in West Houston, the Houston Police Department reported.
It all began at 10:15 a.m. when a shooting in progress was reported at an auto shop located in the 13200 block of Memorial Drive.
"An officer arrived within minutes, he was immediately shot upon several times by a suspect," HPD Interim Chief Martha Montalvo said.
The officer called for backup and SWAT officers came out and established a perimeter around the scene. Texas Department of Public Safety troopers and Precinct 5 constable deputies also responded.
Two deputies were shot at and the suspects also fired at a police helicopter, police said.
"The suspects had high-powered weapons, AR-15s, that they were using that they were able to actually shoot at a helicopter," Montalvo said. She said the helicopter sustained five bullets.
Police said there were two male suspects involved. A SWAT officer shot and killed one suspect at the scene and one suspect was critically wounded and transported to a hospital.
A victim was found fatally shot in the head inside of a vehicle, police said.
"In total we have eight shooting victims, two constables, two suspects, four citizens," she said. "We have two who are dead: one suspect and one citizen."
The constables were both treated and released from the hospital.
Amazing no officer was seriously hurt or killed. Just look at this HPD vehicle. Thankful 4 our officers #khou11 pic.twitter.com/x9izldUAt1

— Marcelino Benito (@MarcelinoKHOU) May 29, 2016
A shelter-in-place alert that was issued at about 11:30 a.m. was lifted at about 1:37 p.m.
"We were able to secure the scene and ensure that the neighborhood was safe. We went house-to-house to make sure nobody else was shot, nobody else was wounded," Montalvo said.
Police said they do not have a motive for the shooting.
"We don't know what started this but what we do know is that they were shooting randomly...just at whoever happened to be on the scene," Montalvo said.
This guy is super lucky. Was shot at at by shooter while he was driving. He's okay! #khou11 pic.twitter.com/Aou97HnfGw

— Marcelino Benito (@MarcelinoKHOU) May 29, 2016
Police said they are also investigating a fire that broke out at a nearby gas station.
"What we think what may have happened is that as the shooting was progressing that they might have hit one of the gas pumps," Montalvo said, noting that this is preliminary information in an active investigation.
Memorial Drive was closed near Wilcrest in both directions, and may be for some time, officials said.
Anyone who has information that might assist in the investigation is asked to call the Houston Police Department Homicide Division at 713-308-3600.
Stay with News 88.7 for the latest in this developing news story. We will update as we get more information.