Listen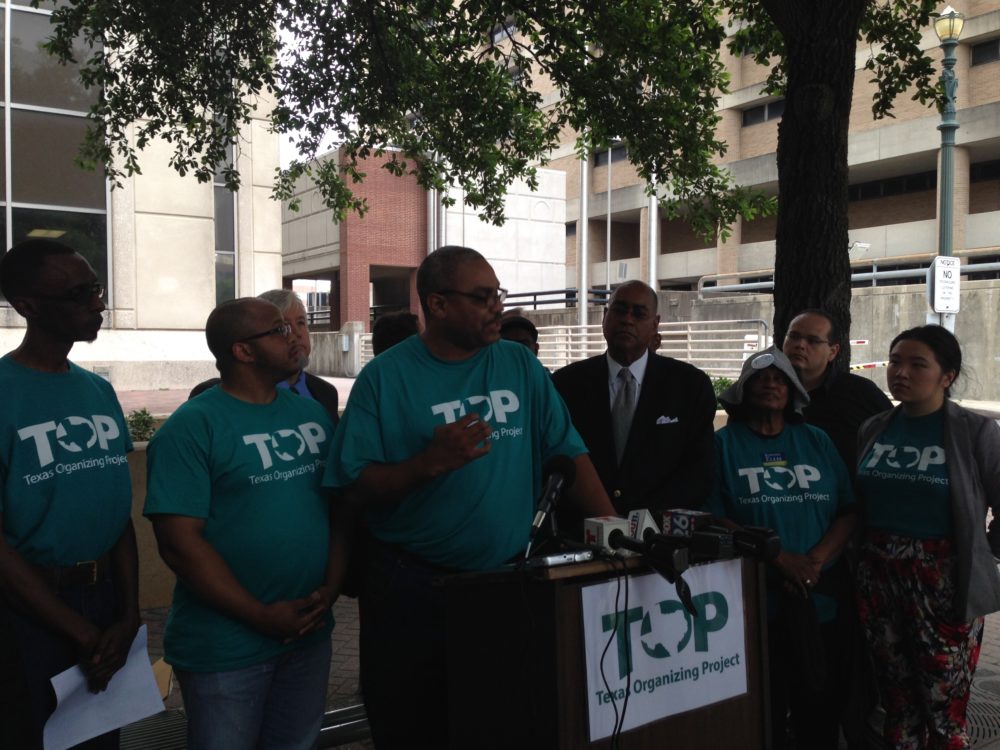 Texas Organizing Project member Feldon Bonner (center) speaks at a press conference held in front of the Harris County Criminal Court building. The activist organization advocates for changes in the county's bail system.
Several Texas-based civic organizations are asking Harris County to reform its bail system.
The Texas Organizing Project, TOP, and other groups, such as the Greater Houston Coalition for Justice, say the current bail system unjustly penalizes low-income defendants.
The activist group underscores that, in March of this year, 77 percent of the inmates who were in the county jail hadn't been convicted yet.
That is a figure included in the March report on the jail population prepared by the Harris County Office of Criminal Justice Coordination.
TOP contends many people are behind bars because they can't afford their bail.
"When a person is arrested for a misdemeanor pursuant to a warrant or a warrantless arrest, that person can pay a secured money bail amount determined by a schedule and they can be released. But if the person is unable to pay, that person remains in custody," noted TOP member Feldon Bonner during a press conference held in front of the Harris County Criminal Court building, near downtown Houston.
Bonner added his organization is advocating for alternatives such as "non-monetary conditions of release, including unsecured or signature bonds."
Texas State Sen. Rodney Ellis agrees with TOP's rationale and, same as the organization, he supports a federal civil rights lawsuit that Equal Justice Under Law, a Washington D.C.-based group, has filed challenging Harris County's bail system.
"I want to urge Harris County to work with the plaintiffs and the lawyers who have filed this lawsuit in order to fix the failed bail system and settle this lawsuit, and do it as soon as possible," said Ellis.
Harris County Attorney Vince Ryan is defending the county in the lawsuit.
Robert Soard, First Assistant County Attorney, said in an email that they take allegations made against the county's bail system "seriously."
Harris County Sheriff Ron Hickman noted in a statement he agrees "there is a critical need to address the system of incarceration in Harris County," but added that "as Sheriff I am mandated to comply with the Courts' orders to confine defendants until their bond is met."