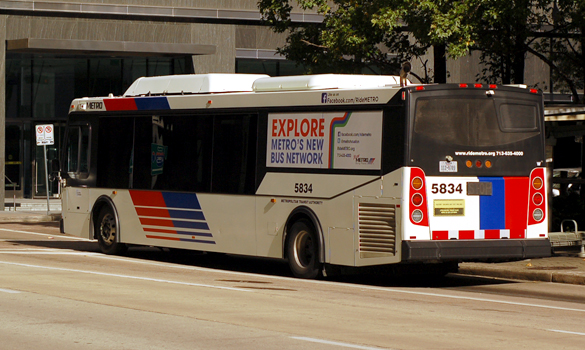 Houston Mayor Sylvester Turner recently delivered his first
State of Mobility address
, outlining his ideas for the future of transportation in Houston. He also addressed the need to encourage more residents to use public transportation, including the bus system.
On this edition of Houston Matters, we hear what the mayor had to say and then discuss the challenges and costs inherent in efforts to implement his vision. We welcome your questions and comments for Andrea French, executive director of Transportation Advocacy Group (TAG) Houston.
Also this hour:
Winners and Losers in a Business-Friendly State
Chief Executive Magazine recently ranked Texas as the best state for business in an annual survey. The publication asked more than 500 CEOs to rank states they were familiar with based on a number of factors, including the states' tax and regulatory standards, quality of the workforce and quality of life. The publication noted Texas's "minimal red tape to educated workers" as some of the reasons the state made it to the top of the list.
So, CEOs think Texas is great for business. But is it great for everyone? What about for employees or consumers? We consider whether there are clear winners and losers in a "business-friendly" state like Texas and discuss what regulations and taxes (or a lack thereof) set us apart with Houston-area labor and employment attorney Alfred Southerland.
Exploring Houston's Fascinating Insect World
Houston (the non air-conditioned, outdoor part) offers a unique ecosystem, filled with fascinating, creepy crawly things – insects of all sizes and shapes. Ever come across one of our many-legged insect friends and wonder: "Just what is that?" We try to shed some entomological light with the assistance of Dr. Nancy Greig, Director of the Cockrell Butterfly Center at the Houston Museum of Natural Science.
Method Acting Explored in Production at Midtown Arts & Theater Center Houston
"Method acting" developed in the American theater world in the early-to-mid 20th century, primarily through the instruction of acting coaches Lee Strasburg and Stella Adler, who each offered their own interpretations of the teachings of Konstantin Stanislavski. Adler studied with Stanislavski, and one of her disciples was the great actor Marlon Brando, who rose to fame as Stanley Kowalski in the Tennessee Williams play A Streetcar Named Desire.
A production on stage this week in Houston (May 26-28, 2016) called The Method Gun tells the story of group of actors who are rehearsing for a production of Streetcar. They're devoted followers of method acting guru Stella Burden (loosely based on Adler). Somewhere along the way, the fictional Burden abandons the cast and crew, leaving them to their own devices. Edel Howlin learns more from Shawn Sides and Lana Lesley from the theater group Rude Mechs of Austin, which is staging the play at the MATCH in Midtown.
Houston Matters offers a free daily, downloadable podcast here, on iTunes, Stitcher and various other podcasting apps.