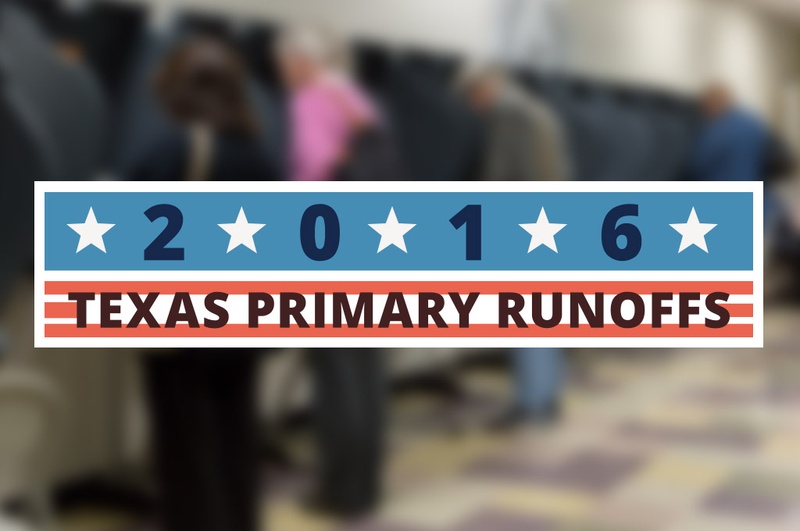 A lack of a compelling statewide race at the top of either ticket kept participation in Tuesday's party primary runoff elections squarely at the lackluster level.
The Republican race for a spot on the Railroad Commission drew the most participation with a bit more than 377,000 votes cast. Compare that to the U.S. Senate runoff election from four years ago where more than 1.1 million Republican voters showed up on the last day of July to lift Ted Cruz to victory over David Dewhurst.
Wayne Christian was winning the Railroad Commission contest over Gary Gates but by less than 2 percentage points as of 1 a.m. Christian will face off in the fall against Democrat Grady Yarbrough who won his runoff contest last night.
The Tribune's Johnathan Silver and Jim Malewitz noted, "In bright-red Texas, Christian is clearly favored to win the general election. More than two decades have passed since a Democrat sat on the commission."
The contest, though, that drew the most attention heading into Election Day was a State Board of Education contest. That was because the candidate who won in the first round of the primary elections, Mary Lou Bruner, became notorious for her posts to Facebook, the most infamous of which related her belief that President Obama had worked as a gay prostitute as a young adult to fund a drug habit.
But as the Tribune's Kiah Collier reported, Bruner lost last night to Lufkin school board president Keven Ellis.
Collier wrote that the "East Texas Tea Party activist and former schoolteacher had been favored to succeed in the race after nearly winning the March 1 primary outright and accumulating heavy support from influential conservative groups that typically hold big sway in low-turnout runoff elections.
"But Ellis, a Lufkin chiropractor who presides over the local school board, maintained a double-digit lead over Bruner throughout Tuesday night, and that lead widened as vote returns rolled in. He ended the night about 18 points ahead of Bruner."
In another notable development, two House GOP incumbents — Doug Miller of New Braunfels and Wayne Smith of Baytown — were headed for defeat.
Smith lost by just 23 votes to challenger Briscoe Cain, so it is possible that a recount could happen in that contest. Miller, though, was handily defeated by Kyle Biedermann in a race that the Tribune's Matthew Watkins wrote was "heated throughout."
Watkins added, "The two victories (by the challengers) likely won't affect House Speaker Joe Straus' hold on the 150-member, GOP-dominated chamber. Enough Straus supporters won their primaries in March that it's unlikely that a serious challenge to his leadership will emerge.
"But the defeats of Miller and Smith serve as energizing wins for anti-establishment conservatives, who have said that Straus is too moderate and needs to be unseated."
And in a couple of GOP runoff elections for open Texas Senate races, Mineola state Rep. Bryan Hughes defeated his House colleague, David Simpson, in one race while Austin ophthalmologist Dawn Buckingham defeated Abilene state Rep. Susan King in the other contest.
This article originally appeared in The Texas Tribune. See full article here: http://www.texastribune.org/2016/05/25/brief-may-25-2016/.