Listen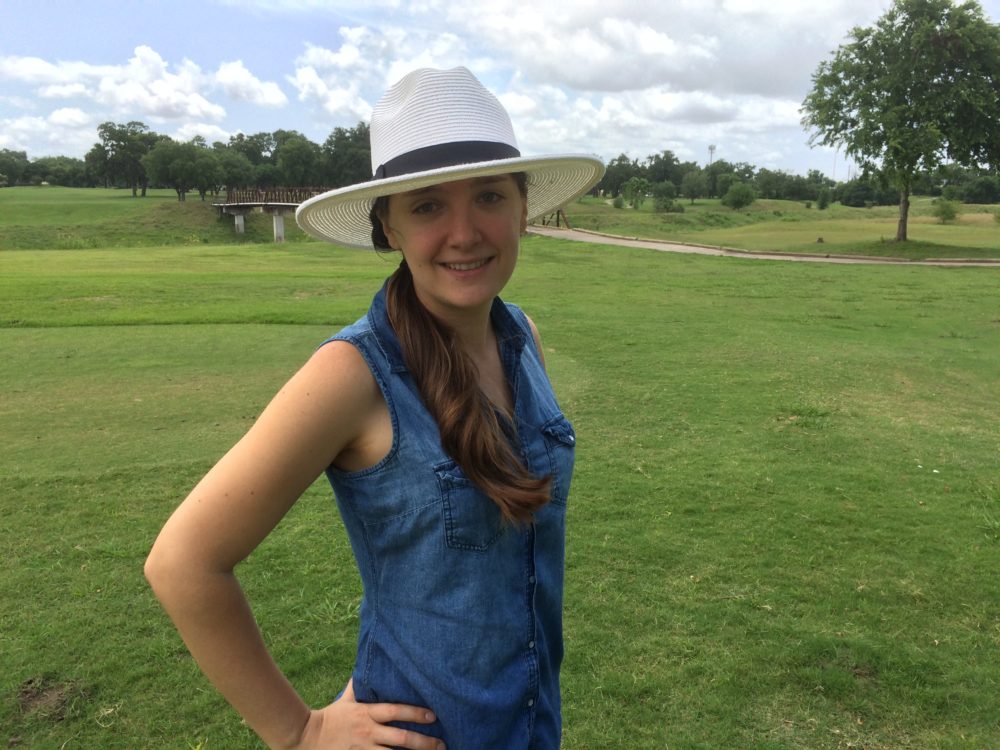 Chelsea Sallans with the group Houstonians for Urban Green Spaces says the Glenbrook Golf Course functions as a public park for the community.
The Glenbrook Golf Course lies just southeast of where the Gulf Freeway meets the 610 Loop. It's a 120-acre, 18-hole course with lots of trees and Sims Bayou and its arms meandering through.
Chelsea Sallans grew up on River Drive, right next to the golf course.
She says after living out of state and abroad for a while, she came back only to learn change was coming to her neighborhood.
A neighbor approached her one day.
"She's like, I don't know what's happening but something's about to happen with a botanic garden and they're voting on it at City Hall tomorrow," Sallans says.
The vote, in January of last year, was for the city to enter into a 30-year lease agreement with Houston Botanic Garden. The nonprofit needs to raise a total of $20 million by the end of 2017 before it can take over management of the site. The plan is to then turn the course into a botanic garden.
Neighbors urged Sallans to take the lead of a newly formed organization – Houstonians for Urban Green Spaces, or HUGS.
Since then, they've been outspoken against that plan. One major argument for them is that the botanic garden will take away a public green space that for them is more than just a golf course.
"Sims Bayou acts as a green ribbon that snakes through both communities," Sallans says. "And Glenbrook Golf Course is the bridge or the connector between those two neighborhoods that allow us to be one community."
She says residents have for decades used the course to walk, bike, fish and simply enjoy nature.
Other major concerns for the group are increased traffic in the neighborhood and possibly residential flooding when the botanic garden is developed.
They also argue the community wasn't involved in the decision-making.
In fact, there has been much discussion and controversy when the city's Gus Wortham Golf Course was considered for the botanic garden. Ultimately, that course was saved and Plan B, Glenbrook, became the site of choice.
"So they very quickly learned from their lessons there, didn't engage the community and just pushed it through as fast as they could," Sallans says.
City council member Robert Gallegos, who represents District I, which Glenbrook is a part of, disagrees.
He says there have been plenty of public meetings, including at the Park Place Civic Club.
"It was an open mic, people were asking questions," he says. "And this was in the summer of 2014 and we voted on this in January of 2015. So, again, for them to say they didn't know anything about this is simply not true."
Critics say those meetings were not exclusively about the possibility of having a botanic garden at Glenbrook and later meetings were just about the design of the garden, when it was already a done deal.
Gallegos describes opposition to the project as fear of change, driven by a handful of residents.
"For someone to say that I want to walk through a golf course," he says. "I mean, first of all, for safety reasons, you shouldn't be walking through a golf course because a golf ball could hit you."
Both the Gus Wortham and the Glenbrook Golf Course have been losing customers and the city says there isn't enough money to keep up both.
Gallegos says the public-private partnership is a win-win.
"It's going to be place where, of course, not just Houstonians but tourists, visitors that are coming in will be able to go to," he says.
He says there's plenty of public support among residents and nearby civic clubs. Supporters at a previous public session pointed out the economic benefits of having a botanic garden.
Sallans doesn't dispute that. She says for city leaders and the botanic garden group, this may be an old issue because they have tried other locations, which didn't work out.
"But when it's your community, it's not some old issue," she says. "This is going to drastically change people's lives and the nature of the community."
The plan is to open the botanic garden in 2020. Its president, Jeff Ross, declined to be interviewed for this story as the group is working on implementation details.
In a previous interview with News 88.7, he said they want to address some of the community's concerns like the possibility of increased traffic.