Listen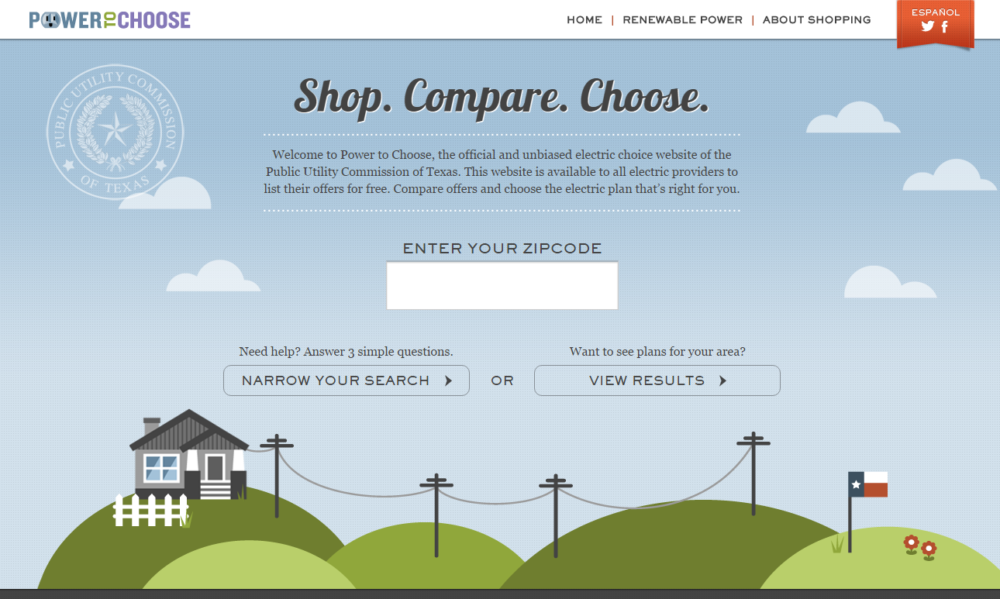 Screengrab from the Power to Choose Website.
The Power to Choose website is run by the state, but it's the electricity companies that post their rate plans on it. As we reported back in March, even the state's own Public Utility Commission of Texas (PUC) that oversees the site said it appears the site may be rigged.
"They've got all these tricky little things in their prices ... that makes it really difficult for most customers,"said PUC chairman Donna Nelson at the commission's meeting February 11th.
The big complaint was that the site was allowing electricity marketing companies to offer ridiculously low rates that are then posted at the top of the site's webpage. But in reality, commission members said the rates were come-ons and what a customer would actually end-up paying for electricity would be far more.
The PUC had invited consumers to share their thoughts and now, dozens have, nearly 80 at last count, mostly from Houston and Dallas.
A couple in northwest Houston wrote, "It is rigged... Do you job. Protect electricity consumers."
A man in Sugar Land said, "Don't let the abusers win by shutting it down." He had suggestions to improve it.
A homeowner in Clear Lake wrote that his actual rate was double what one company had posted on the site. That homeowner was John Cobarruvias.
"It's deceiving people into thinking they're getting a good rate when they really are not based upon their specific usage," Cobarruvias told News 88.7.
To make it better, he and other consumers say the site should allow the comparison of plans in a much more straightforward way. 'Apples to apples' is how several complaining consumers put it.
"Give comparisons, real comparisons of how much you will be paying each company," said Cobarruvius.
A PUC spokesperson told us that the commission is continuing to take consumer comments and will consider changes by sometime late this summer.