Listen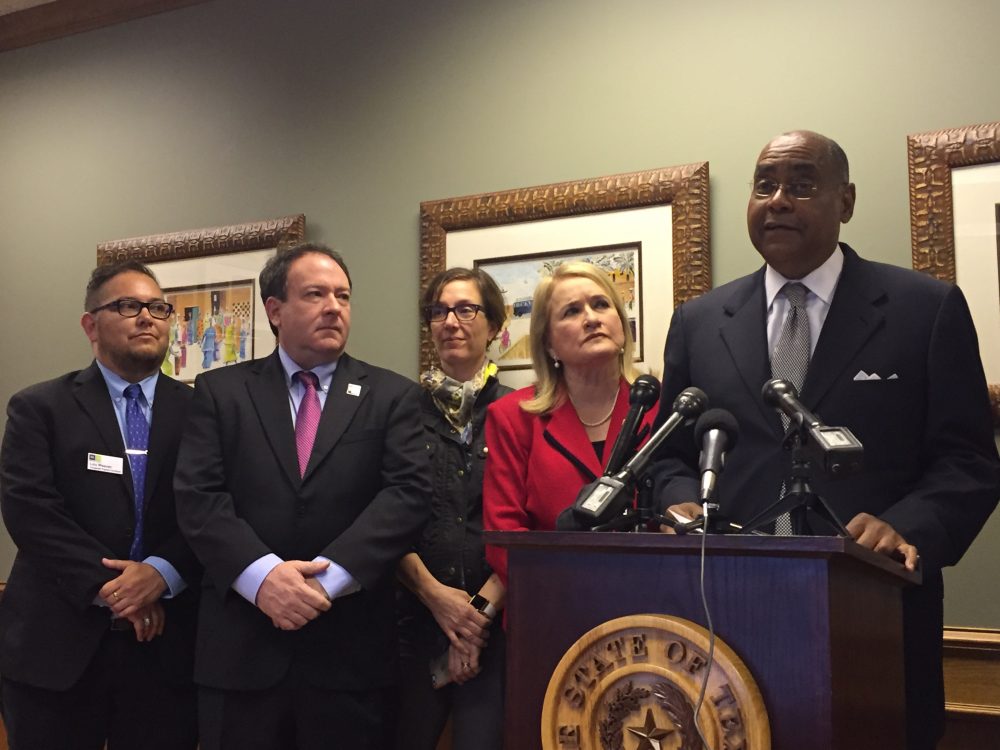 State Sen. Rodney Ellis, D-Houston, leads a press conference about transgender students' rights on May 16, 2016.
The Obama Administration has told schools across the country that they must allow transgender students to use the bathroom that matches their gender identity.
The new guidance affects dress codes, athletic policies, locker rooms and other rules.
What if Texas schools ignore those orders and instead follow the directive from Lt. Gov. Dan Patrick?
"We will not yield to blackmail from the President of the United States," Patrick, a Houston Republican, told reporters last Friday.
Then Texas could lose about $5 billion a year in federal money for public schools.
Patrick has pledged that state lawmakers will try to cover the difference.
But state Sen. Rodney Ellis, D-Houston, said that Texas can't afford that, especially since the Texas Supreme Court has ruled that children deserve a better school funding system, even if the current one is constitutional.
"At a time when the Supreme Court admits that our school finance system is barely scrapping constitutional muster, we can't afford to walk away from ten billion dollars in federal funding that helps to educate and feed our state's most vulnerable kids," Ellis said. (The $10 billion figure refers to funding over a two-year period).
"A lot of money is for kids who have disabilities, special needs and also for food programs. Now it's interesting who folks are picking on. They're picking on folk who are the most vulnerable in our society," he added."
Houston school board member Jolanda Jones said that she knows from personal experience how much kids need free breakfast at school.
"This is a difference between a need and want," Jones said. "Kids need to eat, they just do. Kids who don't speak English need to have someone who helps them with languages."
Jones said that the federal money at stake doesn't go towards transgender students, and that HISD already has a non-discrimination policy that includes transgender students.