Listen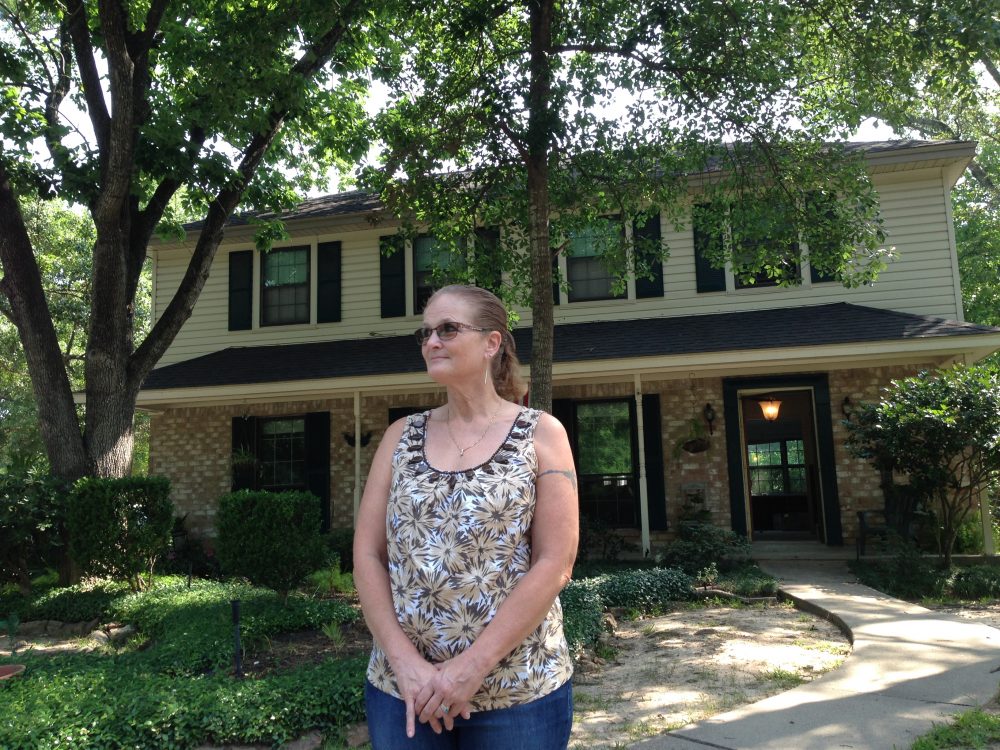 Ellen Angel's home in Spring was flooded during April's floods.
After April's massive floods the recovery goes on in the Houston area.
Ellen Angel is a Spring resident whose home sustained damage.
She is approaching the repairs with a resolute attitude.
"You could just sit and cry, and wallow, and all 'I've lost this and my house is a mess' but that doesn't get things done," says Angel who lives in the Westador subdivision, near the intersection of FM 1960 and Interstate-45.
Little by little Angel's life is getting back to normal.
She and her son have already taken care of the preliminary clean up.
"As soon as the porch was cleared off from water," Angel explains "I started ripping out all the dry wall. I ripped out the insulation, the baseboards."
Angel's living room is tidy. She has packed some things in boxes and placed some personal belongings on the top shelves over the fireplace.
Angel still has her couch, which she managed to salvage, and a television set, but there is no carpet.
"It's as clean as we can get it right now, but you just feel dirty and dusty all the time. Luckily the refrigerator is still working or that would be a major issue, even though it was under water it's still working, but all the other appliances are out, kitchen sink is out, no washer and dryer."
For Angel's list of priorities regarding repairs and replacements, the kitchen is on the top.
"I want a kitchen sink and I need my stove. I don't care about the dishwasher, I can do that by hand, but the kitchen, to have a sink and a stove so we can cook and eat right," she underscores.
As part of her clean-up process Angel has had to place some valued possessions in her backyard, things like her china, which she is drying after cleaning all the mud that accumulated on it.
"It's hard to find the time to get everything done right away, but it has to be done," she said.
Angel, who teaches math and reading at Shotwell Middle School, in the Aldine Independent School District, has also temporarily stored appliances and antiques in the hallway and bedrooms.
Asked whether despite her proactive attitude she could have made more progress by taking some time off, she doesn't hesitate explaining what her priority is.
"It's state testing time with STAAR and my students come first, so this can wait. So, I'm just doing the best I can with it," she said.
Angel has lived in Spring for 12 years and she says the floods will not make her move out.
She is staying and hoping her subdivision doesn't go under water again.