Listen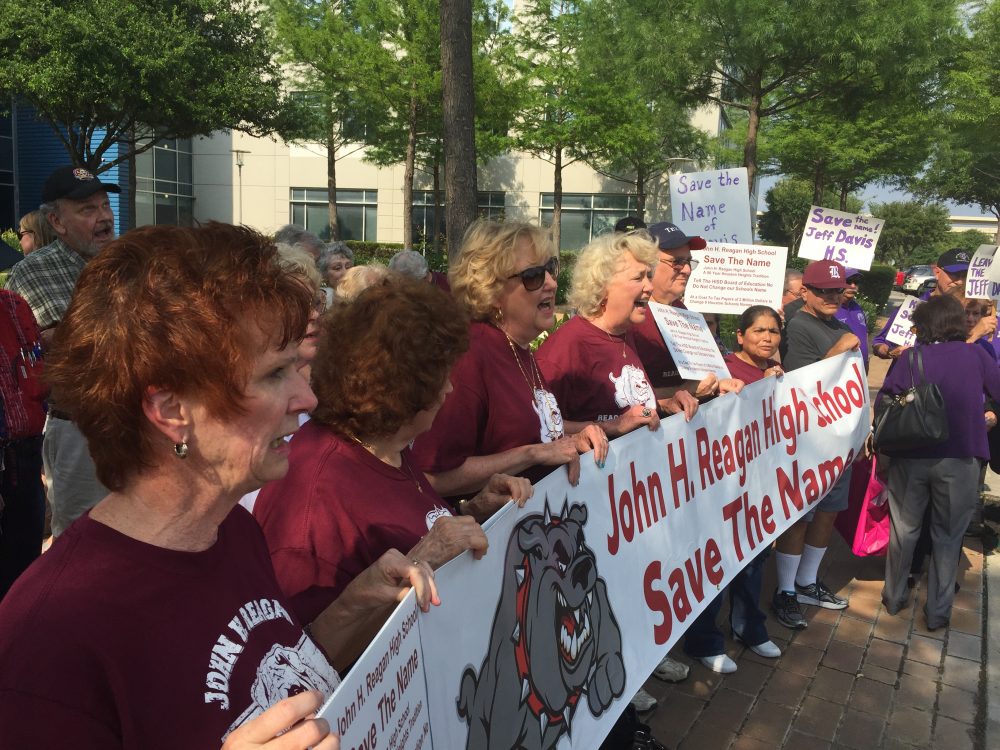 Alumni from Reagan High School and other schools protest to keep their school names outside HISD headquarters on May 12, 2016.
The Houston school board moved forward Thursday night to rename several campuses with Confederate-linked names. The move came despite some community push-back.
Alumni from Reagan High School sang their Alma Mater's anthem outside HISD headquarters in protest.
Members of other schools joined them. Bea Rouse graduated from Jefferson Davis High in 1964 and carried a sign that read "Save Our School Name."
"Because it's been on that school since 1926," Rouse said. "That's 90 years, 90 years of history and heritage."
Heritage was one reason people opposed the new names. Others accused the board of violating its own agenda rules when it first voted – and that the whole process was a waste of money.
Another group from the Hiram Clarke community disagreed with the choice to rename Dowling Middle School after Audrey Lawson and lobbied to honor a former HISD principal, Carrie McAfee.
But the board voted to rename all seven schools on the list. Trustee Mike Lunceford explained his reasoning.
"If we're going to change names, my personal belief is it should be geographic, programmatic, or have been an employee, teacher or principal in HISD and that alone," Lunceford said, before voting to change Johnston Middle School to Meyerland Performing and Visual Arts Middle School.
The controversy over school names may not be over though. Groups from the now formerly named Lanier Middle School and Reagan High have threatened to file a lawsuit.
"I want to congratulate HISD because in a short few months, they've managed to create racial strife where none existed. They've managed to tick off neighborhoods of all ethnicities," said their consultant Wayne Dolcefino.
The new names will go into effect next school year. The changes are expected to cost about $2 million.
Trustee Greg Meyers had this message for groups who passionately opposed the changes:
"Let's come together and take this energy and really steer it towards our students. Can you imagine if every single one of us took the time that we're investing and put it towards an initiative like Read Houston Read and just give a little bit of time?" Meyers asked.