Listen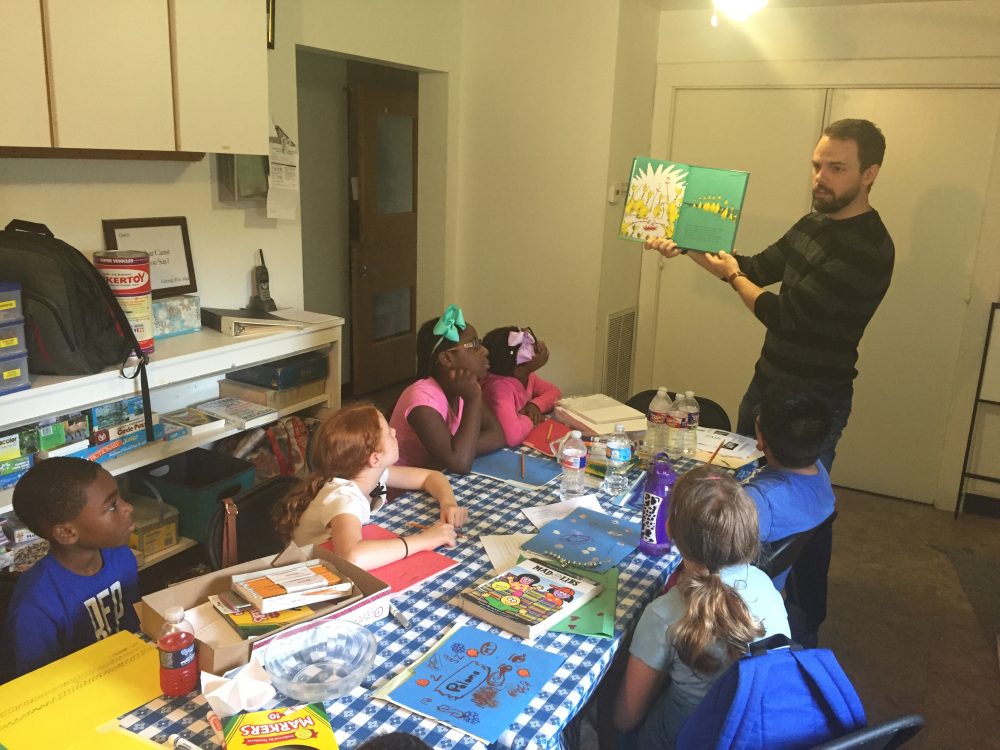 Teacher Sam Brower leads a class at an alternative learning environment for students who are not taking the state standardized exams this week. Brower said that his lesson tries to teach about discrimination through a Dr. Seuss book.
This week thousands of Texas students are taking state standardized exams, called the STAAR. But in Houston about 80 kids have signed up to do something totally different.
Tuesday morning, a bunch of them were playing with a swing outside a community center in North Houston. Third grader Lucia Zuniga explained the game.
"We're playing with the rope and whoever catches it gets to swing on it," she said.
This is not what she normally does at school.
"This school is a school for no testing," Lucia said.
It's called the Opt Out Academy. It's a temporary, alternative school this week that the advocacy group Community Voices for Public Education organized for students who boycott state exams. The group estimates that as many as 500 families in Greater Houston have opted their child out of at least one standardized exam this year.
Lucia's mom Julia Kramp signed her up because she believes high stakes tests hurt her daughter's education.
"It takes away from the time that she could be learning," Kramp said. "So they spend a lot of time every year doing practice exams, learning how to take the STAAR, learning how to bubble in correctly."
At this alternative school, Lucia loves having lots of recess. And her mom likes the creative lessons. In the first one Lucia learns about discrimination through a Dr. Seuss book.
Kramp and other parents hope their boycott changes the way tests are used in school.
"For us it's about kind of changing a system that's in place," said Sam Brower, a parent and also a teacher at the alternative academy. "Because it's not just the week of STAAR tests, but it's all the test prep and all the practice exams and the mock exams that take place leading up to the STAAR. And then this week there's the added stress, there's the added pressure."
Results factor into teacher evaluations and, in certain grades, they may determine if a child moves on to the next level.
But this year the Houston Independent School District approved a new policy saying students won't be punished for not taking the STAAR.