Listen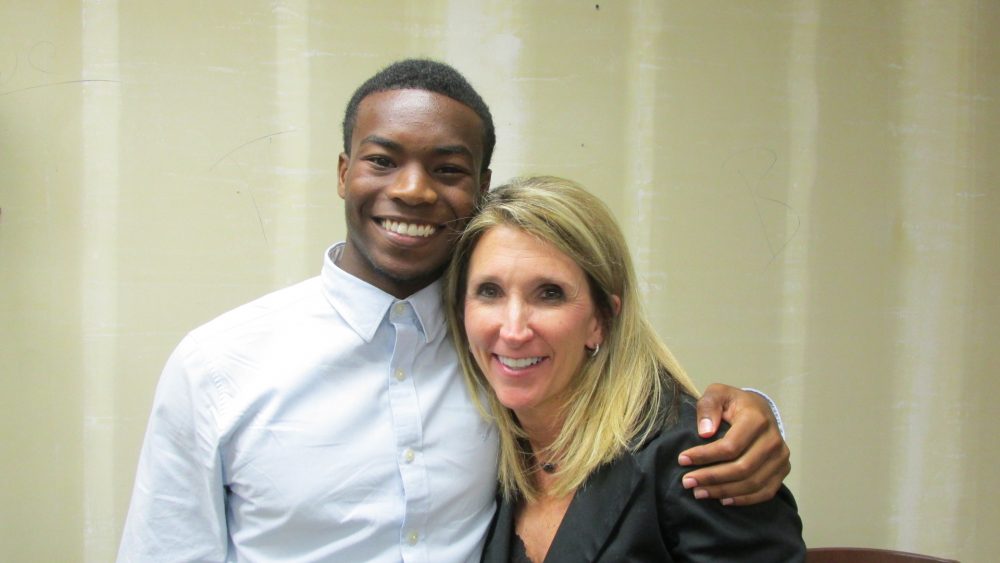 Isaiah Lucas, 17 is a senior at Cypress Falls High School. Becky Denton has been principal there for the last eight years.
While the recent historic flood devastated homes and neighborhoods, it also closed some schools for as much as a week.
Those campuses have started to return to normal. But the floodwaters brought some unexpected challenges.
At Cypress Falls High School, the floodwater damaged the gym, the auditorium and the hallways. It was the worst hit campus in the Cy-Fair Independent School District, where damage totaled $4 million.
After the storm, the principal, Becky Denton, was the first person to campus, which she's led for eight years.
She talked about how the flood had an unexpected impact for senior Isaiah Lucas, 17, in this episode of "Inside the Classroom." Lucas has received a scholarship to attend the University of Texas at Austin next fall and will compete on their track team.
Here's a transcript of their conversation:
Becky Denton: I didn't realize the impact that it had on Cypress Falls until I got here. My husband I got here about nine o'clock on Monday morning after all of the rains came on Sunday night.
The first place that I went, and I'll just tell you the truth, because the only thing I could think of was y'all's caps and gowns. And so the first place that my husband I went when we got here was to y'all's caps and gowns to get them off the floor and luckily they were in a closet but behind a drain. And so the drain took most of the water and I would say it came within maybe about two feet.
And so the next place I took off was to your diplomas, your actual diplomas. And so they were fine.
Isaiah Lucas: The fact that you went to check on our caps and gowns and our diplomas first shows a lot about you. It shows that you actually care for your kids to graduate and that was more important than seeing the floors and stuff like that.
Denton: What do we always say the minute you guys come into this building? We say our job — every one of us — is to get you guys college-and-career ready. And so my job is to make sure that you cross that stage. That was just in my mind. Like not my office. Not the cafeteria. I wanted to get to those to diplomas and those caps and gowns.
Lucas: When I first heard that school was cancelled, I was like, 'Yeah! Can't wait to have a vacation!' And stuff like that. And then when y'all kept going and kept cancelling days of school, I was, like, 'This must be serious.' Some pictures surfaced on the internet of the school's flooding and it made me feel bad for not wanting to go to school.
Denton: I know that you are a world-class runner. In fact, you want to tell us what you won last year?
Lucas: I won state in the 300 hurdles. Also, during the summer, I went to Cali, Colombia to compete for the world youth team, and I placed third overall.
Denton: One of the things that we had to do, which was really difficult for our district, which was we had an area track meet set up. So we didn't get to do that, because of the floods and because we had so many kids in our Cy-Fair ISD district affected by the flood. We didn't feel as if it was a fair advantage so on and so forth. Because of that, because you didn't fare. I think you got third? You're coming back from an injury. And so did your best, you're getting better every week because of this injury. So here's this world-class athlete, right, who's third in the world, makes third in district. But now not even gonna get to participate in area because we cancelled it. So you won't advance to regional's in 300 meter hurdles. So how did that feel?
Lucas: When I first found out, I was in disbelief. So I had to ask my coaches if it was true or not. So, once he told me, my heart was heavy and I was very disappointed. But there's other opportunities for me to go through. So this was just one door closed but other doors have opened for me.
Denton: And you talk about what kind of good did we see come out of this? I saw something in you that I would have never seen because I've only seen you do really well. I've never seen you in the face of adversity and so I love you more and more, more proud of you now because of the way that you handled that. And you want to talk about goodness coming out of something bad? Man, you really exemplified that.