Listen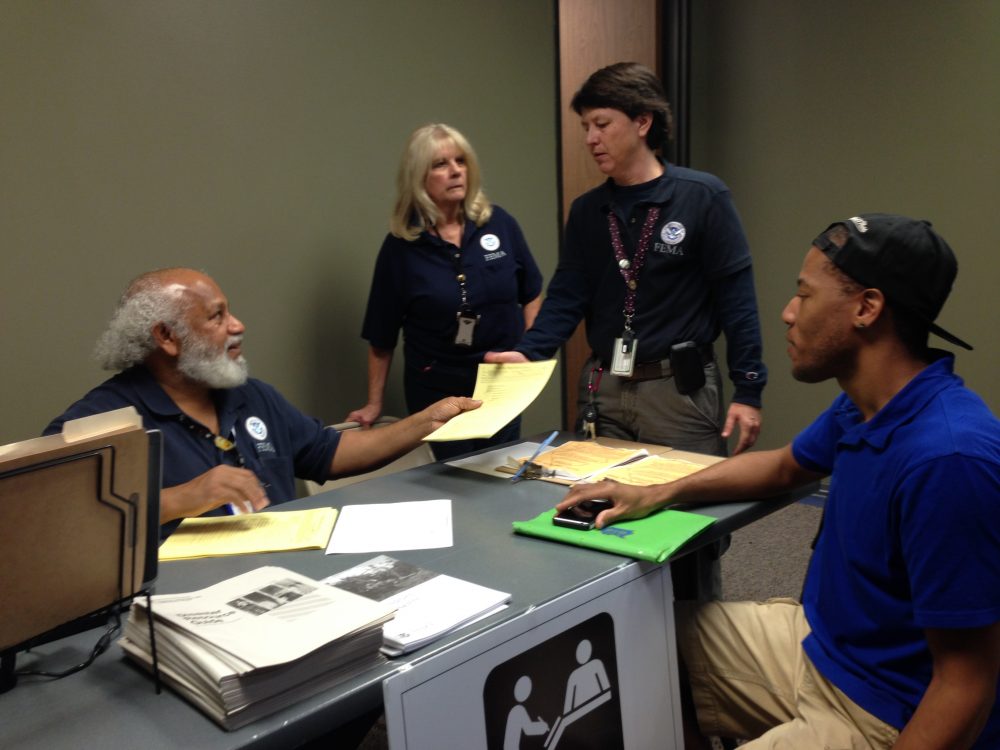 Dante Jones (right) receives assistance from FEMA representative Paul McFarlane (left) at the disaster recovery center the agency has opened in the Greenspoint area.
The Federal Emergency Management Agency, FEMA, has opened four disaster recovery centers in Harris County to help victims of last month's floods.
The recovery centers are located in west Houston, the Greenspoint area, Spring and Cypress.
Although flood survivors can register with FEMA by phone or online, they can also do it at these centers.
The advantage of going in person is that they receive face-to-face information and advice.
Besides grants for temporary housing and home repairs, the assistance can also include coverage of uninsured property losses and low-cost loans.
"The key question is: Were you affected, what county were you affected in, what was your loss, what was your family size, so forth, what is the needs? And then we walk you through the type of assistance that we can help you with, along with SBA and all the other partners around here," explains Paul Timmons, a liaison with FEMA for the Houston area and Harris County.
So far, FEMA has received more than 10,000 applications from Harris County residents.
Shauentray Jones is a Houston resident who is looking for help. She has three small children and used to live in one of the Greenspoint apartment complexes that got flooded.
Jones works at a restaurant, but says she has lost everything and her only desire at this moment is to get back to normal.
"I just need to get me and my family back to where we were. That's all I'm asking for. I don't want nothing else, just get me back to where I was before the flood," she said.
The recovery centers are open Monday through Friday from 9 a.m to 6 p.m. and on Saturdays from 9 a.m. to 2 p.m.
In addition to FEMA representatives, personnel from the U.S. Small Business Administration, SBA, as well as from the state of Texas are also available at these centers.