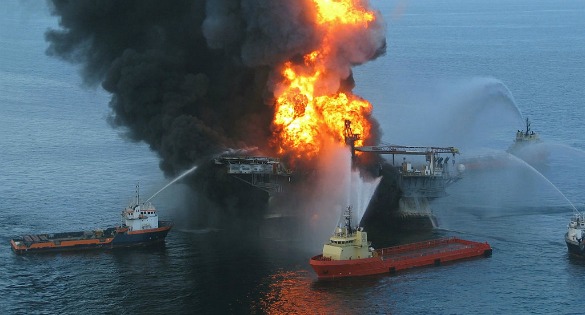 It's been six years since the
Deepwater Horizon disaster
. Eleven crewmen were killed on the offshore oil rig, about 50 miles off the coast of Louisiana. That deadly incident was just the start of what became an all-out environmental catastrophe, as millions of barrels of crude oil spilled onto beaches and wetlands from here in Texas all along the Gulf Coast to Florida during a months-long effort to seal the well.
BP was ultimately held primarily responsible for gross negligence and reckless conduct. Earlier this month, a federal judge in New Orleans granted final approval to an estimated $20 billion settlement.
Today, we learn more about the impact of the oil spill on coastal wildlife by talking with two representatives of the National Wildlife Federation.
Amanda Fuller is deputy director of the National Wildlife Federation's Gulf of Mexico Restoration Program, and a Texas Policy specialist. And Ryan Fikes is gulf restoration scientist for NWF. We get their thoughts regarding how they'd like to see that settlement money used in Texas and elsewhere.
Then, we hear from Dr. Rita Colwell. She's a scientist with the Gulf of Mexico Research Initiative. Back in the first few weeks after the spill – amid images of birds and sea life covered in oil, and volunteers rushing to the coast to help – B-P turned to her to head up an independent initiative to research the spill's environmental effects.
Last April, Houston Matters producer Edel Howlin spoke with Dr. Colwell to learn what was known then – five years after the fact.
MORE:
What Does BP's Deepwater Horizon Settlement Mean for Houston? (Houston Matters, July 7, 2015)
Deepwater Horizon: Lessons Learned Five Years Later (Houston Matters, April 20, 2015)
The Great Invisible: Documentary Tells Stories of Those Affected By Deepwater Horizon (Houston Matters, April 20, 2015)