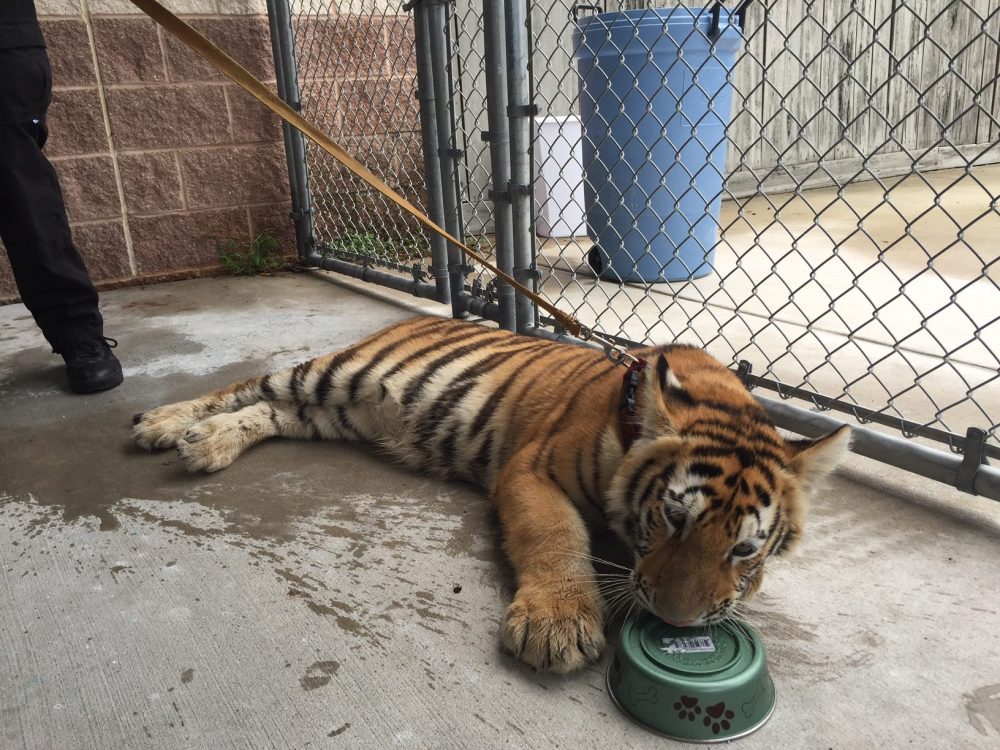 The baby tiger, who weighs just over a hundred pounds, doesn't belong to Cody Tibbitts.
It also doesn't belong roaming the streets of Conroe — which is precisely what it did after Tibbitts left it, unsecured, at a friend's house amid last week's floods.
"It's not mine, legally — it's someone else's, legally," Tibbitts told KHOU-TV on Saturday. "We just don't know who has the paperwork."
When Tibbitts, worried about rising waters, decided to leave the Houston area on Thursday, he claims he arranged for a "transporter" to take the tiger back to her original owner, "to see if he could house her, for, you know, X amount of days, until I could get her back." But no one showed up, and the tiger named Nahla quickly took to the streets, still wearing her collar and leash.
"I think a gate was opened, or — I don't really know," said Tibbitts, who could not be reached for comment for this story.
The Humane Society of the United States has offered to take Nahla to an animal sanctuary, but Katie Jarl, the Texas state director, says she hasn't heard back from Conroe police. It's unclear who currently has custody of the tiger — that same police department did not return multiple calls from The Texas Tribune on Monday. Eventually, a judge will decide where the tiger belongs.
In the meantime, it's not even clear whether a crime was committed. Keeping a tiger as a pet is illegal in Conroe, according to city ordinances, but perfectly fine in Montgomery County, which surrounds the city. If the tiger's true owner lives outside the city limits, the Conroe regulations may not have teeth.
The whole debacle has unearthed a unique complication: There are few statewide regulations regarding "dangerous wild animals." That category, according to the Texas Health and Safety Code, includes lions, tigers and bears, as well as cheetahs, hyenas and gorillas. For the most part, it's up to individual counties and municipalities to decide whether to ban such animals. State law simply requires that owners alert their local animal control offices so that they can be prepared if the animals escape.
Skip Trimble, who sits on the board of directors for the Texas Humane Legislation Network, which advocates for the humane treatment of animals, said most of his organization's efforts are focused on making sure even that basic requirement isn't overturned.
"We've been more or less fighting bad bills rather than creating anything new," Trimble said, adding that the one existing regulation about notifying local animal control "has not been very well enforced."
In the last few legislative sessions, some lawmakers have sought to tighten regulations — something Trimble's group would welcome. State Rep. Ryan Guillen, D-Rio Grande City, authored one bill in 2015 requiring dangerous animals be registered with the state, and another in 2013 banning individuals from owning or selling dangerous animals in counties or municipalities with populations greater than 75,000 people. Neither bill made it out of committee.
Jarl, the state director of the Humane Society of the United States, said the patchwork nature of laws regulating ownership leaves the door open for accidents — especially in heavily populated areas where an animal who is properly registered with one animal control office might get loose and catch another area's officers unaware.
"We have no database. We do not know where these animals are kept," Jarl said. "… The truth is, we have absolutely no way to prove the scope of this problem because we do not know where these tigers are."
This article originally appeared in The Texas Tribune at http://www.texastribune.org/2016/04/26/across-texas-dangerous-animal-arent-widely-tracked/.