Listen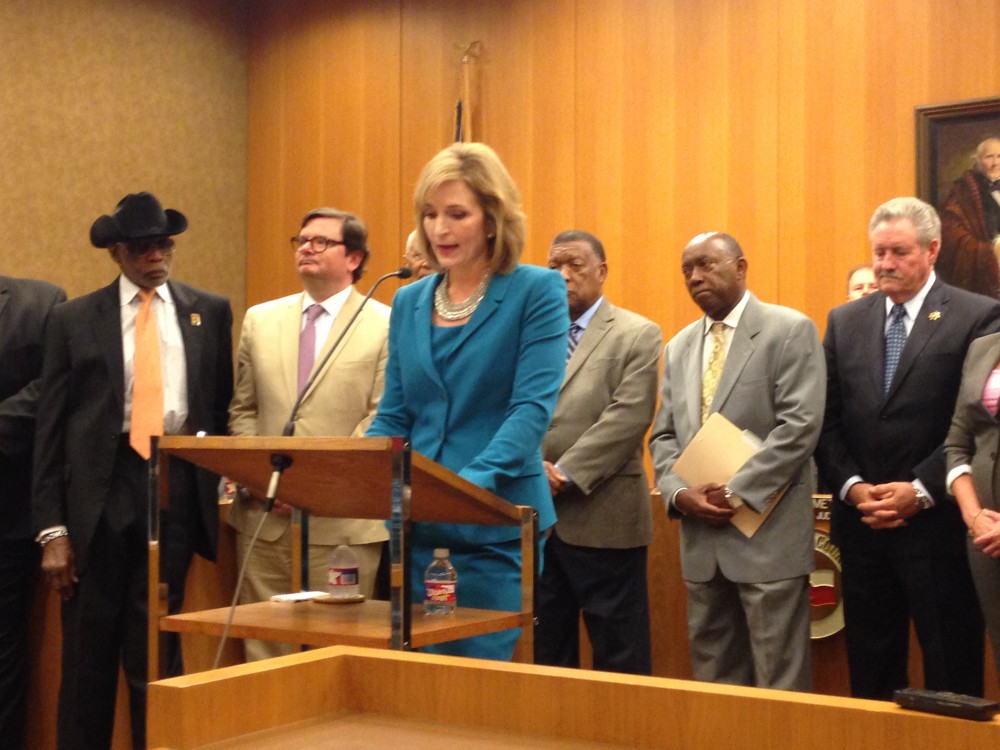 Harris County District Attorney Devon Anderson led the press conference to announce the grant from the MacArthur Foundation. Precinct 1 Commissioner Gene Locke, Houston Mayor Sylvester Turner and Harris County Sheriff Ron Hickman were also present.
Harris County has won a grant to fight overcrowding at the county jail and reform the criminal justice system.
District Attorney Devon Anderson announced the John D. and Catherine T. MacArthur Foundation has awarded the county $2 million dollars.
"Our main goals are to safely reduce our jail population by 21 percent in three years — that's 1,800 people — and to reduce the glaring problem of racial and ethnic disparity within our jail," Anderson explained in a press conference held at the county's Commissioners Court.
Anderson detailed that African-Americans make up 48 percent of the county's jail population, while Hispanics represent 28 percent.
To address that situation, the county will create a new position that will be tasked with organizing community forums and training sessions about racial bias.
Additionally, the DA's office will use several strategies to allow low-risk offenders to be diverted from the criminal justice system.
One of them will entail greater use of pre-trial intervention for first-time felony drug and misdemeanor retail theft offenders.
The county will also create a so-called Reintegration Impact Court.
"This court's docket will be involving non-violent offenders charged with possession of less than one gram, prostitution forth and theft third offender. These are people we can quickly get into diversion programs and treatment," noted Anderson.
Precinct 1 Commissioner Gene Locke said the reform is needed and added that if the county doesn't use jail diversion measures, "we continue to put an extra tax burden on the people of Harris County who have to support the jail system."