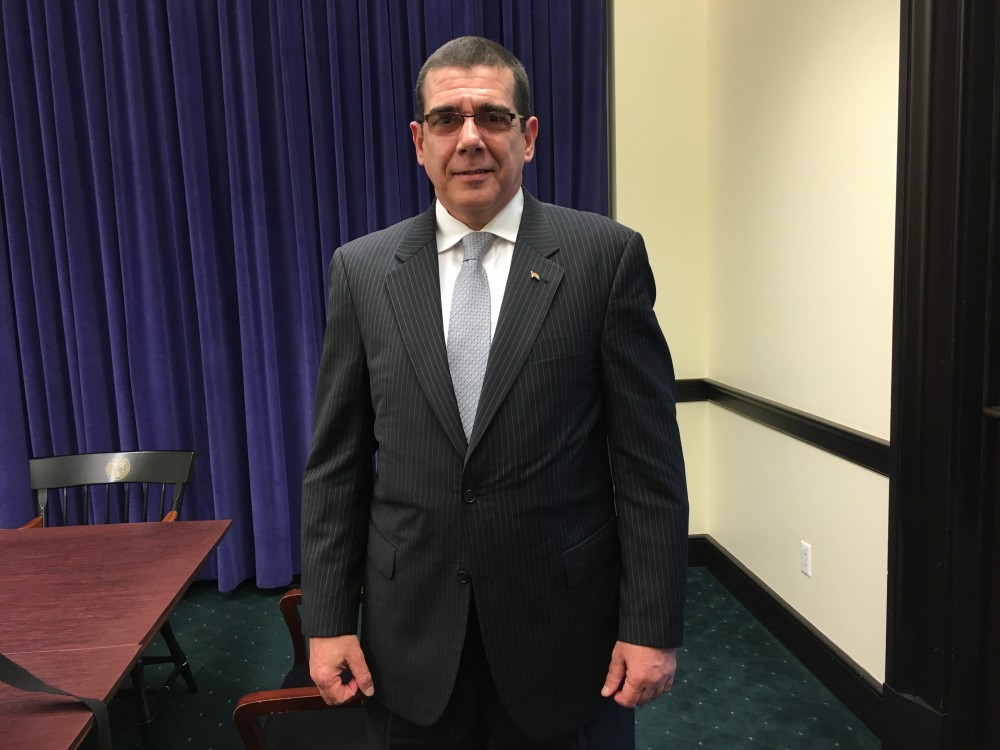 Last September, José Ramón Cabañas Rodriguez was appointed Cuba's first ambassador to the United States in more than 50 years. He paid his first official visit to Houston on Tuesday. News 88.7 politics and government reporter Andrew Schneider spoke with the ambassador just before an address at Rice University's Baker Institute.
Interview Highlights:
What are the next major steps going forward in normalizing relations between the U.S. and Cuba?
"First, think about...what you call (the) embargo, we call (the) blockade, or we can call it (the) sanctions regime, which is still in place. Although (the Obama) administration has introduced many new regulations to open up, a little bit, travel, for example, we cannot talk, legally, still about tourism...Some regulations relating (to) banking services have been relaxed, but still, no major bank is involved in business with Cuba...We have other issues like claims...you have claims on your side, we do have claims as well. And just mention another subject...Guantanamo Bay. I mean, it's a part of our territory...We have to exert sovereignty over the whole territory of our island."
One of the restrictions Cuba still has in place is on Cuban-born American citizens being able to travel to Cuba by sea. Do you see those restrictions as being loosened or dropped anytime in the near future?
"Well, that restriction is not legislation. It's a practice that we have had over the years...As close as last February, Cuba was finally removed from that list of those places where your authorities didn't consider our ports as safe for the visits of cruises to happen....I (will) meet the people from Carnival and other companies who will have the permission to travel soon, and we are addressing those issues, and certainly we will find some flexibility in the future."
President Obama and President Raúl Castro held a joint press conference during Obama's recent visit to Cuba. At the press conference, CNN's Jim Acosta asked Castro why the Cuban government was holding political prisoners, to which Castro said, 'Show me a list, and if there are any political prisoners, they will be released.' Afterwards, several organizations did produce such lists. Has the Cuban government reviewed them, and if so, will it be releasing political prisoners?
"First, the guy that asked the question, and I know him personally, he didn't have a list at all...The couple of lists I have seen later on...one list had 47 names, and the other one had 101, I think. When you are talking a population of 11 million people, that's nothing, and we can compare with other countries in the region. But on one of those lists...there were 14 people from Central America who participated in terrorist acts in Cuba, and they are imprisoned for that reason...We haven't received any official lists from U.S. authorities. Those are organizations that...have been in the business of producing lists and...presenting complaints about what is happening in Cuba, but nothing that is actually serious."
What do you see as the potential role for Houston, or for Texas more broadly, in terms of the future of U.S.-Cuban relations?
"Probably, you are aware about the Mariel deepwater container terminal and the economic zone around it. I have got a lot of interest...in the Port of Houston Authority in that regard, because...we will have a new dynamic in regional trade very soon, when the Panamanians finish...the expansion of the Panama Canal...And at some point I hope — don't ask me when, but at some point I hope — Cuba will have a consular office in Houston, as we have many Cuban-Americans living in this area as well."
See the Baker Institute's Director's Lecture Series: The Future of US-Cuba Relations featuring José Ramón Cabañas Rodriguez below: