Listen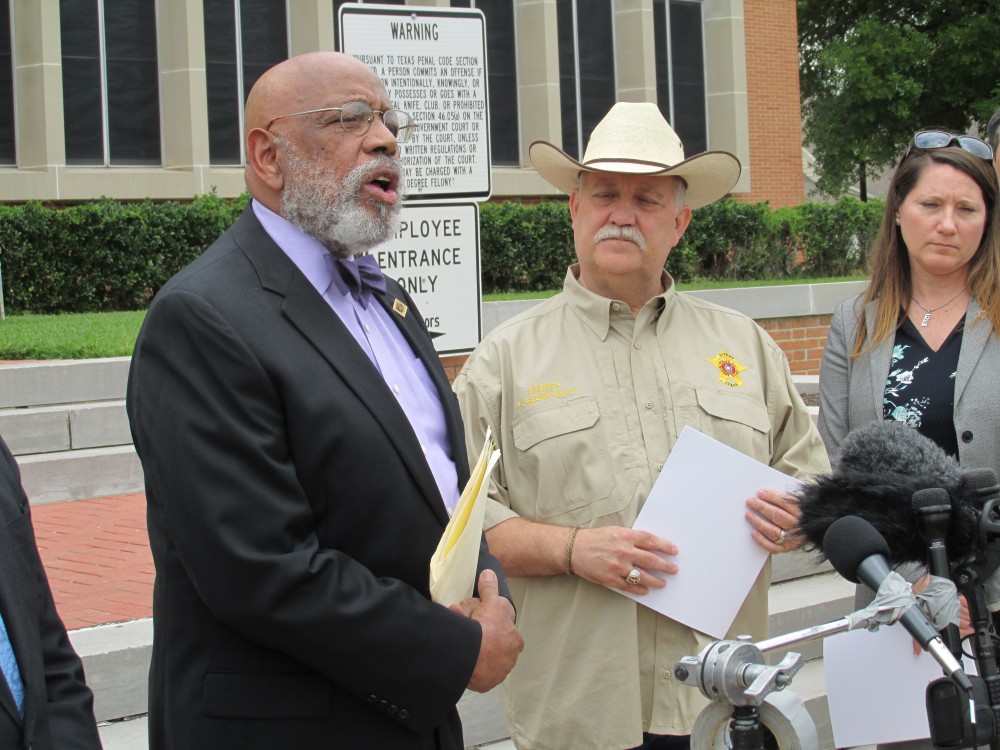 Attorney and former U.S. Rep. Craig Washington hands Waller County Sheriff Glenn Smith a report with recommendations for police and jail practices.
The nine recommendations include a new jail, body cameras, sensitivity training for sheriff's deputies, and mental health screening of inmates.
Houston civil rights lawyer and former U.S. Rep. Craig Washington presided over the five-member committee. He handed the report to Sheriff Glenn Smith on the steps of the Waller County Courthouse.
"Imagine that if these recommendations were in effect tomorrow in this community and in the other communities, I think it would make for a better criminal justice system," he said. "I think it would make for people having a greater respect for law enforcement."
It was the sheriff who asked for the investigation into his office after Sandra Bland hanged herself in the jail last July. He says he'll take the recommendations to heart.
"Obviously, some of it is easier than others," Smith said. "The body cameras, the upgrade of computers in vehicles we've already started working on."
Not everyone was happy with the report.
Hannah Bonner is a social justice advocate from Houston. She sees the report primarily as a public relations effort for the sheriff.
"And if this creates the possibility for him to be reelected through this positive media moment, then we are actually removing one of our largest opportunities for accountability," Bonner said.
Bland, who is black, was pulled over by a white state trooper, Brian Encinia, for a minor traffic violation last July. A confrontation led to her arrest for assault of a public servant.
A few days later she was found hanging in her cell. Bland's death caused a national outcry and added fuel to the Black Lives Matter movement.
Encinia was subsequently charged with perjury, a misdemeanor, and was fired. In addition, Bland's family has filed a wrongful death lawsuit against the trooper, the Texas Department of Public Safety, Waller County and several jailers.
Here are the recommendations by the committee consisting of civil rights attorneys Craig Washington and Randall Kallinen, former Texas Court of Criminal Appeals Judge Morris Overstreet, criminal defense attorney Juan Guerra, and president of the Harris County Criminal Lawyers Association JoAnne Musick:
Inmate screening for mental health and medical problems: Employ EMTs to triage and assess medical and mental health issues while also creating the ability for physician review and videoconferencing.
Body cameras: Develop a written policy for the use of video recordings and purchase body cameras to document interactions to protect both the officer and the citizen accused.
Language and demeanor: Create a zero tolerance policy against the use of demeaning or derogatory language.
Counseling and fitness to serve: Anger management courses and psychological evaluations should be implemented.
New jail: New jail facilities are necessary as the current facility does not address the safety and security required.
Booking process: Invest in technology for an electronic booking process to facilitate access to information on inmates.
Digital reporting from the field: Invest in technology to allow deputies to access records electronically and enter offense reports without the necessity of returning to the office.
Public information officer: A single point of contact for public information allows the office to present information more clearly and accurately.
Separate jail administration and policing duties: To the extent possible, jail administration and policing should be separated.