Lower oil prices and layoffs have driven down the demand for commercial office space in Houston. But construction has been quite healthy in healthcare, and it's fueled by the need for both more, and newer, hospitals.
At last week's groundbreaking ceremony for a new CHI St. Luke's hospital, the climactic moment came when a priest, a congressman, a businessman and two doctor walked up to a pile of dirt. After grabbing their silver shovels, they shouted, "One, two, three!"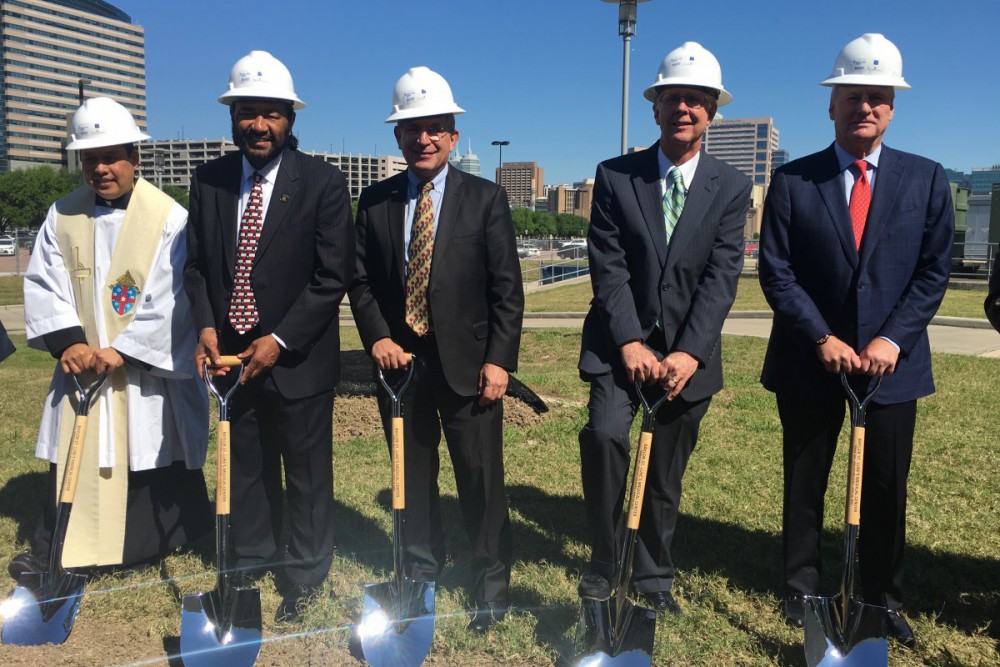 "Let's spill some dirt!" Added Congressman Al Green, D-Houston.
But for all the lightheartedness, this project is serious business.
"This is the largest project of its kind for Catholic Health Initiatives that they've ever done, a billion-dollar project," said Scott Arnoldy, the businessman who served as chairman of the executive building committee.
"So to put that kind of money it, there is great expectations of what we will produce," he added.
Two firms, Tellepsen and Hunt, were chosen to build the new tower for CHI.
"The commercial [sector] is having its challenges right now, because there is a lot of office space available because of the layoffs," said Howard Tellepsen, chairman and CEO of Tellepsen. "But healthcare right now is as strong as it's been in years, it is booming."
Tellepsen said the CHI St. Luke's project is especially meaningful for him, because his grandfather built the original St. Luke's tower.
"I remember he was so excited when he came and told the family, how proud he was to be involved, because it was one of the early hospitals in the Texas Medical Center," Tellepsen recalled. He said his grandfather broke the news over Sunday lunch, after church, when he was ten years old.
Kathleen Margolis handles healthcare clients at Gensler, an architecture and planning firm. She says healthcare projects are more than just a bright spot in Houston construction.
"It's an absolute shining star, and it's not because it's suddenly grown so much. It's because others have stepped back," she said.
The hospitals have stepped up, especially in the suburbs.
Memorial Hermann is building new hospitals in Pearland and Cypress. Methodist and Texas Children's are building in the Woodlands.
"You've seen a significant growth in the suburbs with population and density, and medical service providers are coming to their customers," said Mark Sikes, a partner with Deal Sikes & Associates.
And the construction includes more than just acute-care hospitals. In the healthcare business, insurers want to pay to keep people out of the hospital, to keep them well. So administrators are building a range of facilities, from primary-care clinics to rehab facilities to urgent care centers.
Margolis noted that much of the construction going on inside the Texas Medical Center itself is not about population growth per se. Instead, those hospital executives are updating and modernizing their facilities.
"You see these cranes going up and you think, 'Oh my gosh, we're building more hospitals!' when actually what we're doing is replacing," Margolis said.
It's not that the old buildings were falling apart, she explained, it's that they have become functionally obsolescent as medical treatments and technology have raced ahead.
St. Luke's, for example, opened in 1954, long before there were C-T scans or electronic health records. That kind of technology all had to be shoved in later. Patients need more room, too.
"You have more acute cases, patients are sicker that are going in to hospitals now," Margolis explained. "These 40 year-old-plus hospitals aren't able to accommodate them."
The building boom isn't just about patients either. MD Anderson dedicated a new building on Friday – a 12-story center entirely for cancer research.