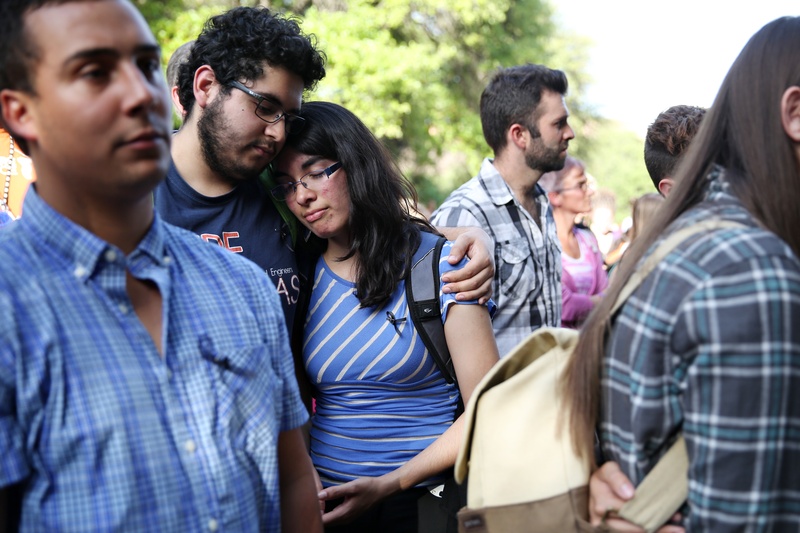 Austin police have arrested 17-year-old Meechaiel Criner in connection with the death of University of Texas at Austin student Haruka Weiser, who was killed earlier this week, police officials said Friday.
Criner, who police believe is homeless and unaffiliated with the university, will be charged with murder, a first-degree felony, Austin Police Chief Art Acevedo said at a news conference. Although Acevedo declined to comment on whether Criner had confessed, officers had a "high degree of certainty and confidence" that they "had the suspect responsible for her murder," he said.
According to Acevedo, police officers took Criner into custody at LifeWorks, a homeless shelter and advocacy agency in Austin, late Thursday afternoon. It was local officers who had originally taken Criner to LifeWorks on Monday evening, after he started a trash can fire on Medical Arts Street, a few blocks from where Weiser's body was found. After the police released the video of their suspect on Thursday, Austin firefighters and an unidentified woman from UT called in tips that Criner appeared to be the man on the video, based on his physical attributes and the clothing he was wearing. Criner also had a pink woman's bicycle, like the suspect in the video.
University of Texas police officer David Carter, noting that Criner was homeless, acknowledged at a press conference that there are "areas of concern" in the student neighborhood immediately west of campus, but said he did not intend to "single out any group of people."
"We're in close proximity — we're in a major metropolitan area with a somewhat significant homeless population, especially to the west of campus," Carter added.
"Being homeless is not a crime," Acevedo added.
Weiser, a freshman ballet student from Portland, Oregon, was found on campus Tuesday morning. Austin police officials said Weiser was likely killed late Monday while she was on her way to her dorm room.
Austin police are working with police departments from the University of Texas and the UT System, as well as the Texas Rangers, to solve the case, which has ignited a conversation about safety across the UT campus. This week, the administration has issued several warnings to students, asking them to walk in groups, especially at night. The university has also increased the number of officers on patrol, and the state has sent 20 troopers to further assist.
UT administrators also announced they would be improving security measures in and around the College of Fine Arts, where Weiser's body was found. UTPD has provided shuttle vans in the evening for students and staff leaving late-night rehearsals, and the College of Fine Arts announced it would reimburse any student who used a taxi, Uber or Lyft to travel from campus to their car after sundown.
Disclosure: The University of Texas at Austin is a corporate sponsor of The Texas Tribune. A complete list of Tribune donors and sponsors can be viewed here.
This article originally appeared in The Texas Tribune at http://www.texastribune.org/2016/04/08/police-suspect-custody-ut-homicide-case/.