Listen
Father Michael Barrosa, chaplain at Baylor St. Luke's Medical Center, sprinkles holy water on the site of the future hospital tower
Executives at CHI St. Luke's Health broke ground Tuesday on a new hospital tower for its McNair campus, off Old Spanish Trail. The celebration comes almost three years after Catholic Health Initiatives in Colorado acquired the St. Luke's hospital chain here in Houston.
But it wasn't until a few months ago that CHI confirmed that St. Luke's will exit its historic tower in the medical center and move farther south. The new campus is across Cambridge from the DeBakey VA Medical Center.
"We are building a new hospital, this is it, that's where it's going to be," said Wayne Keathley, president of the new hospital, now called Baylor St. Luke's Medical Center. He later grabbed a silver shovel and posed beside a symbolic pile of dirt, joined by other executives from St. Luke's and Baylor College of Medicine.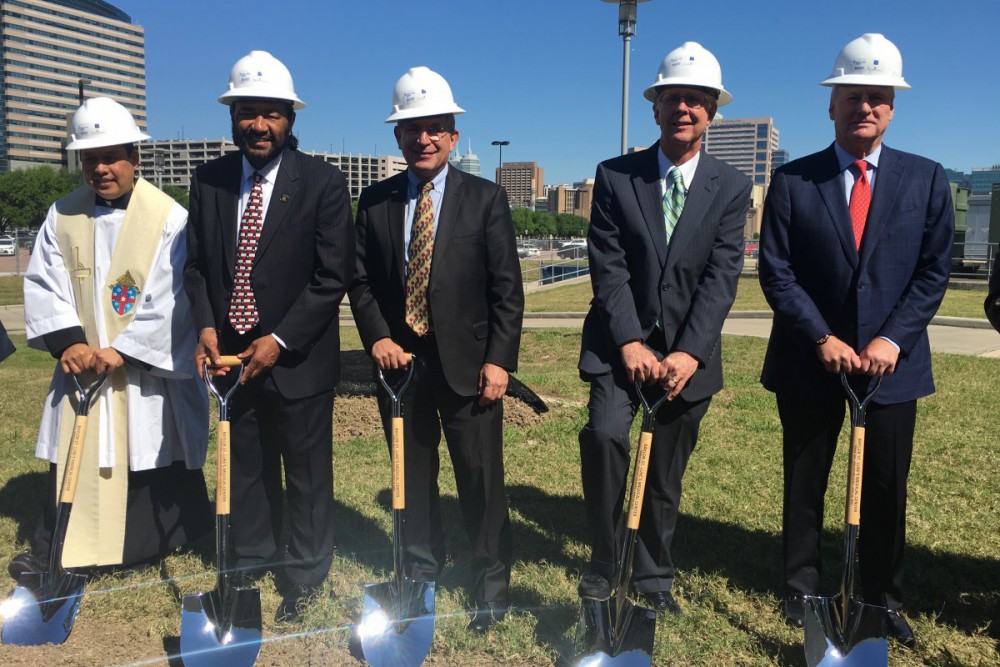 The complex will house three affiliated healthcare brands — CHI St. Luke's, the Texas Heart Institute, and Baylor College of Medicine, which employs more than 3,000 doctors and researchers throughout the medical center.
Baylor's president, Dr. Paul Klotman, said his institution will benefit from the increased visibility.
"One of our problems at Baylor is people ask me 'Where do you guys actually practice?'" Klotman said. "It turns out we see about half the patients in the medical center."
Baylor doctors practice and teach at Texas Children's Hospital, Ben Taub Hospital, the VA, the Menninger Clinic, and in several outpatient office buildings around the medical center.
But Klotman says that until now, the Baylor name wasn't featured prominently on any of those major buildings. The new complex is jointly governed by Baylor and CHI St. Luke's.
"Buildings do play an important role, they're iconic. They're places that catch your eye, and you go 'Oh, that's where they are,'" Klotman explained.
The entire campus will be finished in 2019, at an estimated cost of $1.1 billion.