Listen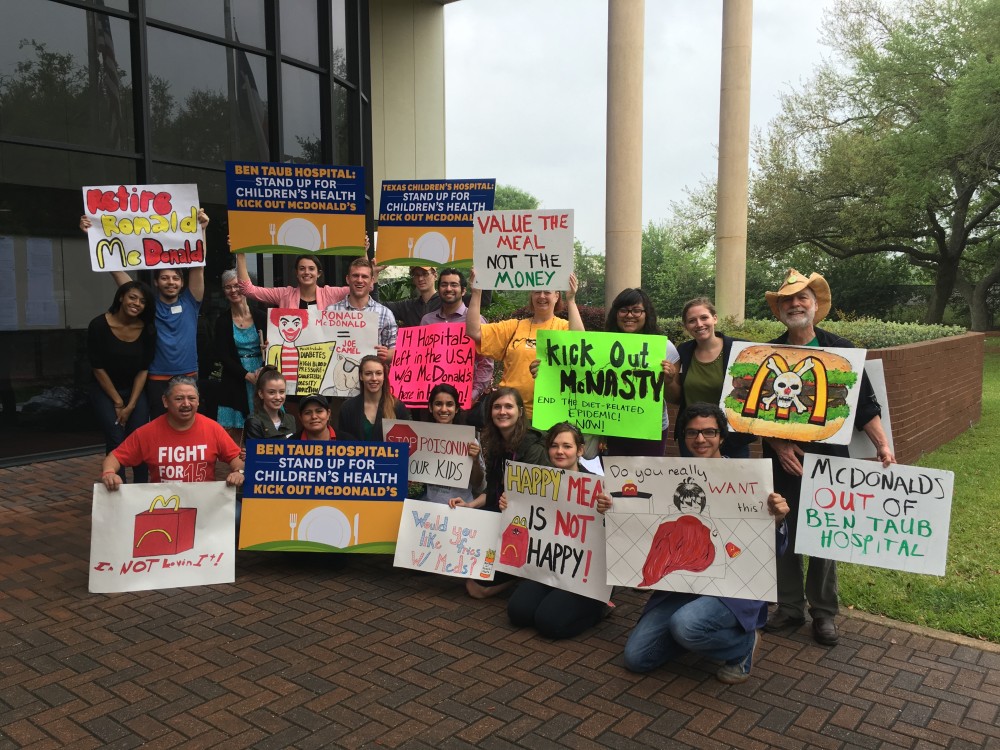 Protesters with Corporate Accountability International rallied outside Harris Health System on March 31 over the McDonald's in Ben Taub.
Two national groups have called on several Houston hospitals to remove fast-food chain restaurants from their grounds.
One recent campaign by the Physicians Committee for Responsible Medicine focused on Chik-fil-A. It says about 20 hospitals across the country have the franchise, and it launched an advertising and billboard campaign that parodied Chik-fil-A's slogan, with white-coated doctors asking people to "Eat More Chickpeas." One of the Houston billboards was on Alameda road, not far from the Texas Medical Center.
"Many of the hospitals that host Chick-fil-As are in states with high rates of diet-related diseases, making hospitals part of the overall toxic food environment," said Angie Eakin, M.D., in a statement. She also appears in the advertisements. "Hospitals should be fast-food-free, and patients should eat more chickpeas, vegetables, fruits, and other foods that can promote healing and prevent disease."
In Houston, there are two Chik-fil-A restaurants at MD Anderson, one at Texas Children's, and one inside the Texas Medical Center administrative building.
Another group, Corporate Accountability International, is focused on McDonald's at healthcare institutions.
Taylor Billings, a Houston organizer for the group, criticized both Texas Children's and Ben Taub hospital for having a McDonald's.
"To have two of the leading health institutions in Houston hosting the world's most recognized junk food brand, it just doesn't make any sense," Billings said.
Billings organized a protest March 31 outside the headquarters of the Harris Health System on Holly Hall Street, by the Smith Clinic. The group asked board members to get rid of the McDonald's at Ben Taub hospital.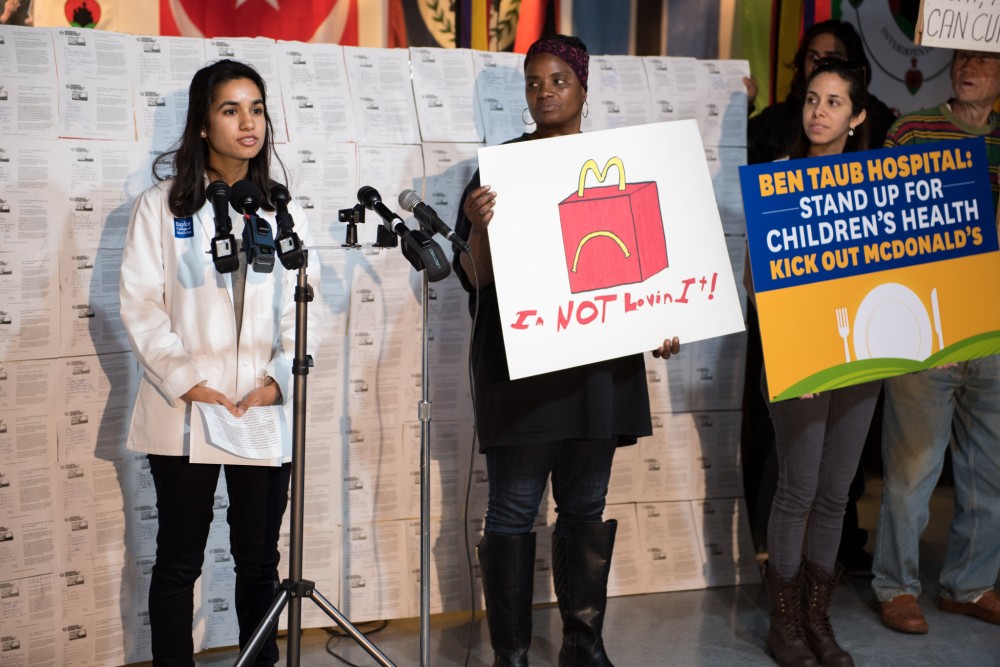 The restaurant has the right to renew its lease until 2022. In addition, the contract with McDonald's also gives a portion of the proceeds to a charitable foundation associated with Harris Health. The foundation uses the money for its programs, such as free vaccines and a mobile mammogram unit.
"McDonald's has been a very good partner for us throughout our association and affiliation," said Harris Health's CEO and president, George Masi.
The foundation gets almost $11,000 a month from the McDonald's, a spokesman said.
Billings dismissed those payments as "kickbacks," and said they were not unique to the Ben Taub location.
"For McDonald's this is high-impact marketing," Billings said. "For them to keep a restaurant in a place of health is such an incredible marketing opportunity, and McDonald's will do almost anything to keep that piece of real estate."
Masi pointed out that Ben Taub offers several dining options, not just McDonald's.
"Yes, hamburgers are their signature product line," Masi said, "But they offer salads and diet drinks and juices, so it does provide for personal choice, and we do everything we can to educate our patients and staff about the importance of good nutrition and balanced diet and caloric intake."
Texas Children's Hospital declined to release details of its contracts with McDonald's or Chik-fil-A.
A spokeswoman did say that by having a McDonald's, the hospital can maintain communication with the company's corporate leaders, and possibly work with them to help make changes that would impact children nationally, not just in Houston.