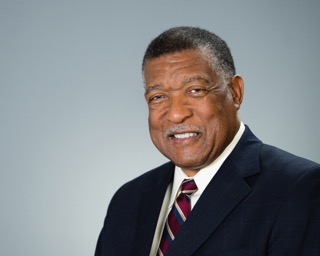 Harris County Commissioner Gene Locke will seek the Democratic nomination for Precinct One this November.
Locke, a partner at the Andrews Kurth law firm, was appointed earlier this year to fill former Commissioner El Franco Lee's unexpired term through December 31, 2016.
Lee, the first African-American ever elected to the Harris County Commissioners Court, died on January 3, 2016 at the age of 66. He served as commissioner of Precinct 1, which includes much of the inner city and south Houston, for over 30 years. He was running unopposed for the Democratic nomination in the March primary.
When Locke was appointed as Lee's interim replacement, he said that he did not intend to run for Precinct 1 commissioner in November.
However, Locke issued a statement Monday, saying many community leaders and residents in Precinct One have urged him to run for the seat and he believes his personal and professional experience, and his deep roots in the precinct make him the best person for the position.
See Commissioner Locke's Precinct One announcement below:
After much thoughtful consideration and prayer, I have decided to seek the Democratic nomination for a full term as Harris County Precinct One Commissioner. I am now calling each precinct chair to explain how I reached my decision and to ask for their support.

On January 3, 2016, the people of Harris County lost a beloved public servant. Commissioner El Franco Lee faithfully served the residents of Precinct One for more than 30 years. He was a close personal friend and we worked on many projects together.

With a heavy heart and a sense of great responsibility, I was honored to be chosen in late January to serve the remainder of Commissioner Lee's term. Since that time, I have worked to continue Commissioner Lee's legacy of service by maintaining his various programs, plus launching new projects to serve our citizens.

As I have traveled Precinct One, I have had the opportunity to meet with many residents and discuss their concerns, and to see firsthand the challenges they face. Many residents and community leaders have urged me to continue Commissioner Lee's legacy of service and seek the nomination of the Democratic Party for County Commissioner, Precinct One.

I believe my personal and professional experience, deep roots in Precinct One, and thorough understanding of how County government works make me the person best suited to honor Commissioner Lee's work and get the job done for Precinct One residents.

Commissioner Gene L. Locke

Harris County Precinct One Commissioner